Andy Butler on his intention to apply for the Doncaster Rovers job and what he needs to do the land the role
Andy Butler knows full well that an improvement in results is vital if he is to land the Doncaster Rovers manager role on a long term basis.
Wednesday, 14th April 2021, 3:05 pm
Updated
Wednesday, 14th April 2021, 3:15 pm
Rovers have opened up the application process for the job and intend to confirm an appointment within days of the end of the season.
Butler - who will continue to manage Rovers for the rest of the season - has declared his intention to apply for the job.
But after suffering the seventh defeat of his 11 match tenure on Tuesday, he is well aware that Rovers' results will be the biggest claim he has to securing the role.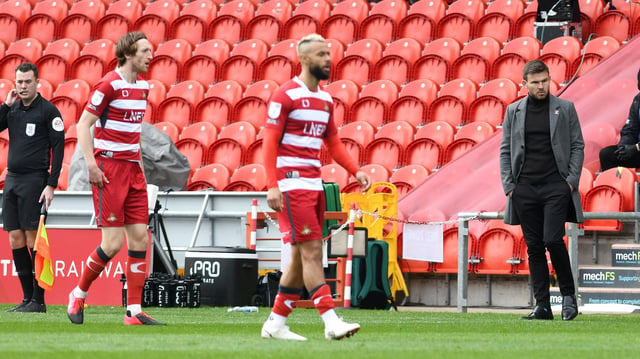 A dejected Andy Butler looks on
"Obviously performances and results - there's no two ways about it," Butler told the Free Press when asked what he feels he needs to do to get the job.
"If results keep going the way they are, I think that makes it easy for them to appoint someone else.
"But you learn a lot from losses and you learn how up and down football management is.
"There's a lot more well known managers that have had tougher times than this and you come through the other side a better person because you learn from mistakes and learn where you've gone wrong or what you can do better individually or as a whole team.
"I want to thank my staff for everything they've done so far.
"They've been unbelievable to me.
He added: "People think I'm inexperienced, which obviously I am as a manager. But I'm not inexperienced as a coach, I've been doing that a long time."
"I still think that I'm learning from this experience but I'm still going to give myself every chance to get the job.
"Because results have not gone my way does not automatically mean that I am a bad manager.
"I'm still working as hard as I can to get results.
"I will be applying for the job."
Butler insisted there was no surprise when Rovers confirmed on Monday they would be seeking applications for the role.
And he backed the decision as the right thing to do to ensure Rovers are strong in the summer.
He said: "I spoke to the club and it takes a process to bring the right person in.
"Leave it any longer and the club is on the back foot in the closed season.
"They have every right to put it out there for applicant to apply because no one wants to start the season with no players.
"We've got a lot of contracted players who are out of contract, a lot of loan players who will go back to the clubs and people who may not get extended contracts.
"The club has got to appoint someone and get the recruitment done right.
"It's there for me to apply and I will do.
"Either way I am here next year, either as a player or manager so I've got to get my head around that.
"It's a challenge to get the job and I've got to back myself to bring the right players in and for them to perform for me.
"I will be applying and I'm guessing there will be a hell of a lot of people applying as well because it's a great job to have.
*