Andy Butler backs Louis Jones for Doncaster Rovers number one spot
Andy Butler has backed Louis Jones to claim the number one spot for Doncaster Rovers next season.
Monday, 3rd May 2021, 6:00 am
Jones has played the majority of Rovers' matches since Butler took charge of the club two months ago and has been excellent in the last two games in particular.
The academy graduate needed to bide his time for a run of games in the Rovers side, with previous boss Darren Moore opting to use loanees in goal.
But Butler believes the 22-year-old is now ready to take the starting position on a regular basis.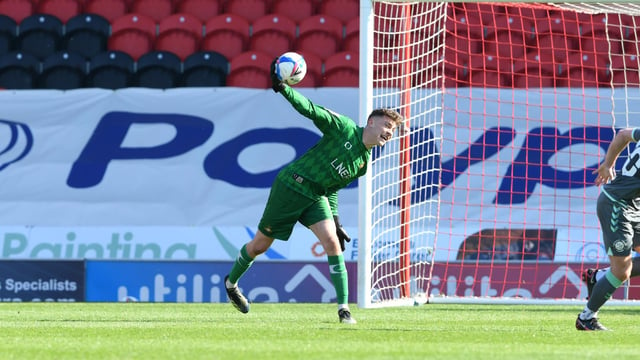 Louis Jones
"I believe so, watching him in training," he said.
"When I came in, I put him in straight away. I've seen what he can do in reserve games and training.
"He had the time to reflect and I said to him to take heed of what he's done, review and go again.
"It's important not to load too many young lads with too many games and make sure they can see what they've done.
"It's important for his education to see what he's done well and what he can improve on.
"He's come back into the side and shown what he can do."
Jones played the first eight matches of Butler's reign before dropping out of the side, with Ellery Balcombe returning before the Thorne-born keeper started the last three games.
Butler believes Jones has improved greatly in his time in the first team.
"His consistency, his talking has come on a lot and his decision-making," Butler said of Jones' areas of improvement.
"There were a couple of times, especially against Peterborough where he came for a few crosses and it's just about having that confidence in the players around him.
"Again, it's building relationships between defenders and goalkeepers.
"His kicking is very good as well.
"He's still young and learning but he's also showing he can mature very fast.
"I've told him now, make the number one spot your own.
"Performances like that, you'll soon get noticed.
"He rightfully came into the side, went back out for time to reflect and he's com back in to show you what he's capable of.
"Louis had time to reflect, look back on performances and have that hunger to get in and stay in there.
"That is the message - keep the number one spot."
*