WATCH: Chatsworth House lit up for Christmas by an amazing light show
Magic, sparkle and wonder – a trip to Chatsworth House will make everyone feel like an excited child in the run-up to Chrismas.
Watch more of our videos on Shots! 
and live on Freeview channel 276
Visit Shots! now
This year's festive theme is The Palace of Advent and it's a glittering celebration of Chatsworth's creativity and community. Families can see animations of elves pushing large gifts from Father Christmas's workshop, visit Santa's sorting office, watch a miniature train whizz around a track high above their heads and write their Christmas wish to tie onto a tree. There are 24 beautifully decorated rooms on the tour and Christmas trees large and small including one made from mince pies!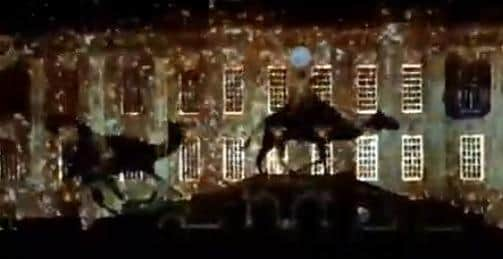 Full-length paper cuts decorating windows celebrate the groundskeepers, gardeners, housekeepers and cooks who have been caretakers of Chatsworth for centuries. Artist Bethan Maddocks used receipts, diary entries, letters and photos to inform her intricate creations. A dazzling display of more than 1,500 Christmas tree brooches from Adam Wide's Guinness Record breaking collection is also on show. Adam has collected more 8,250 festive brooches on the same theme after a tiny one caught his eye in a Copenhagen department store 40 years ago.
The icing on the Christmas cake comes in a visit to the Duke and Duchess of Devonshire's stately home after dark where a spectacular moving light show is projected onto the outside of the house. Awe-inspiring images include a Christmas tree bursting into life, wise men riding high on camels, angels, stars and snowflakes fluttering into view. Just like an Advent calendar, 24 windows open in succession to reveal a surprise behind them.
This magnificent projection has been created by Illuminos, the company set up by brothers Rob and Matt Vale, who grew up in Matlock. It's the company's second masterpiece for the Duke and Duchess of Devonshire's stunning residence which was a location for the Shine A Light festival celebrating history and heritage in 2021.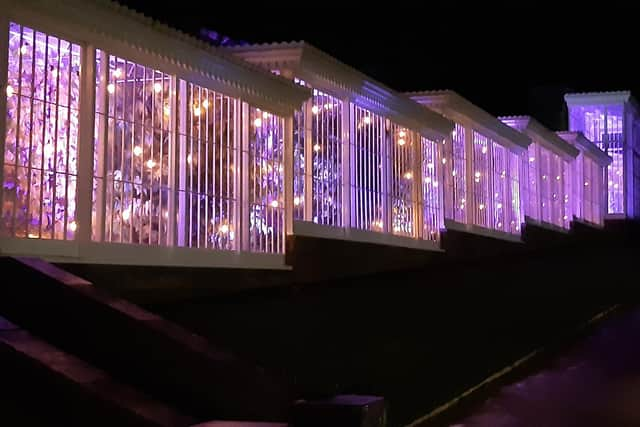 Lord Burlington, who is chairman of Chatsworth House Trust, welcomed stakeholders to a private viewing of The Palace of Advent on Friday evening. He opened his address by saying: "Anyone know how many days until Christmas? None….it starts here at Chatsworth."
The stately home has welcomed visitors to its Christmas displays since 2001 and for some families it is a highlight in their calendar. Lord Burlington said: "It started with my grandparents and it was a reaction to the fact that they had to close that year because of foot and mouth which literally was a disaster for tourism and in some way this was to try and compensate for that. It's just grown and grown ever since and has built up, in some cases, into a family tradition and in particular a multi-generational thing.
"There is so much dedication and work that goes into it from our own team led by Suzie Stokoe. Part of that success and enduring enthusiasm that visitors have is because of the care and attention that only a home team can bring and you'll see that not just in the design and the conception but also in the making."
Jane Marriott, director of Chatsworth House Trust, said: "I hope you realise when you walk around that Chatsworth is so much more than a house, it's a place of creativity, it's a place of community and Christmas encapulates that more than any other time of year.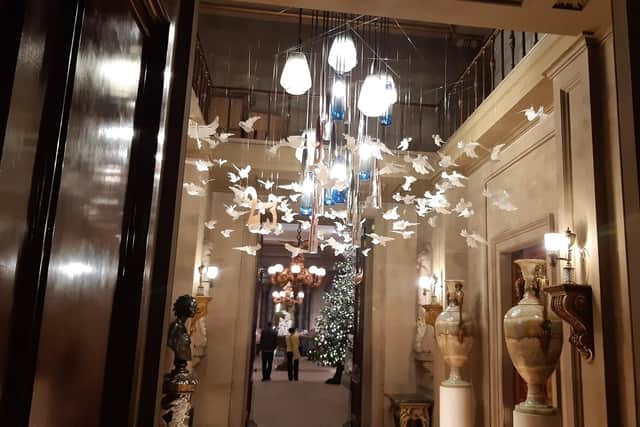 "You turn the news on and you see what's happening in the world, whether it's wars, whether it's cost of living crisis and I don't think we should underestimate just how important it is to step away for all of that, to reconnect with your family and friends and to step out of daily life and daily pressures and enjoy what we have here at Chatsworth.
"Christmas is important to us. Every single penny that is spent on every single ticket and every single membership goes directly back to the charity and is invested in conservation and in our learning programme."
The Palace of Advent runs at Chatsworth until January 7, 2024. To book tickets, go to www.chatsworth.org