Major £150 million funding boost for local bus services as fare cap set to be extended
Every part of the Midlands and North of England is set to benefit from £150 million of new funding to improve bus services over the next financial year, the Transport Secretary has announced today (Monday 23 October).
Watch more of our videos on Shots! 
and live on Freeview channel 276
Visit Shots! now
This is the first tranche of £1 billion worth of new funding that the government is dedicating to bus services across the North and the Midlands as part of the Network North Plan - with further funding allocations to be announced in due course.
While it is up to local authorities in partnership with operators to decide how best to use the funding, the new funding for next year is enough to support up to 25 million miles of new bus services across the North and Midlands, helping local authorities provide more regular and reliable services or cheaper fares delivered through fare initiatives and ticket price caps.
The funding has only been made possible thanks to this government making the right long-term decisions for a brighter future. The reallocation of HS2 funding as part of Network North ensures that we can deliver our new £36 billion plan to improve the daily transport connections that matter most to people, benefitting more people, in more places, more quickly.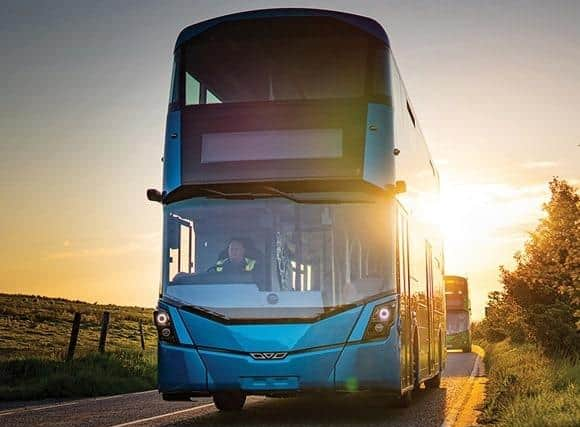 Prime Minister, Rishi Sunak said: "Today's announcement marks the start of the Network North plan coming into action.
"We're backing buses with one of the biggest ever support packages and keeping bus fares down to ensure the country's favourite means of transport is more affordable for millions of people.
"This government is taking the right long-term decisions to deliver on our vision for a fairer and improved transport system by investing billions back into to the transport projects that matter most to people and their communities.
The £150 million from redirected HS2 funding is dedicated to levelling up bus services, with areas across the North and Midlands given extra support for services to become more frequent, more reliable, cheaper and easier to use.
Local authorities may use the additional funding to reintroduce evening services to support the night time economy, increase service frequency meaning less waiting time for passengers, introduce new routes to ensure areas previously unconnected are now connected or introduce a Demand Responsive Transport service to improve connectivity in rural areas.
This funding comes on top of the Government's unprecedented investment of over £3.5 billion for the bus sector since March 2020 to support its recovery from the pandemic, drive improvements to local bus services and encourage more use of buses.
The "Get Around For £2" bus fare cap scheme will also be extended again to continue to help people save money. The cap had been due to rise to £2.50 but will instead remain at £2 and continue until 31 December 2024 thanks to the redirected HS2 funding behind the new Network North plan. This takes total Government investment to cap bus fares at £2 to nearly £600 million.
Transport Secretary, Mark Harper said: "Buses are the most popular form of public transport, which is why we are continuing to back our buses with record high levels of funding – supporting vital bus services and offering affordable travel for passengers.
"This increase in funding to deliver more reliable, frequent and affordable local bus services – and to extend the £2 bus fare cap – has only been possible with the redirected HS2 funding secured by this government making the right long-term decisions for a brighter future."
Since the £2 bus fare cap was introduced across the UK on 1 January 2023, millions of passengers have benefitted from lower fares. The Get Around for £2 scheme has helped cut bus fares in England outside London by 7.4% between June 2022 and June 2023, with savings even bigger in rural areas where fares have dropped by almost 11%.
According to initial analysis from a recent report published by the Department for Transport, the scheme has helped encourage people to get back on the bus, with almost half of respondents saying the fare cap is the main reason they are using the bus more.
Today also sees community services for older people and vulnerable passengers receive a 60% funding boost. These "lifesaver" services are vital for older and vulnerable people to get to the shops, medical appointments and see loved ones.
The funding increase, made through the Bus Service Operators Grant (BSOG), will help keep fares down and has been hailed by charities and vulnerable passengers who have difficulty using regular buses and rely on community services to get around and combat loneliness.
Janette Bell, Managing Director at First Bus said: ''At First Bus, we're on a mission to get more people using the bus. Today's news will help more people get on board with bus travel, bringing benefits to society, local economies and the planet."
Matthew Topham, a campaigner at Better Buses for South Yorkshire, said: "Today's announcement doesn't begin to touch the sides. We've been losing services for decades and a small pot of cash split between all the North can't begin to fix that.
"What's more, it's like turning on the tap and leaving the plug out! Due to private control of our buses, whenever public money — your money — is used to boost bus services, any financial benefits are seen by shareholders, not local people.
"They're the ones that keep the extra cash collected from higher ticket sales. We need to get back to how every other European country runs buses: public control. That way we can keep the returns on our public investment and get into a growth cycle where more passengers mean more money from fares to improve services.
"Mayors Burnham and Rotheram have just taken massive steps to reclaim their buses in the North West and reap the benefits of public investment. Yorkshire deserves the same."