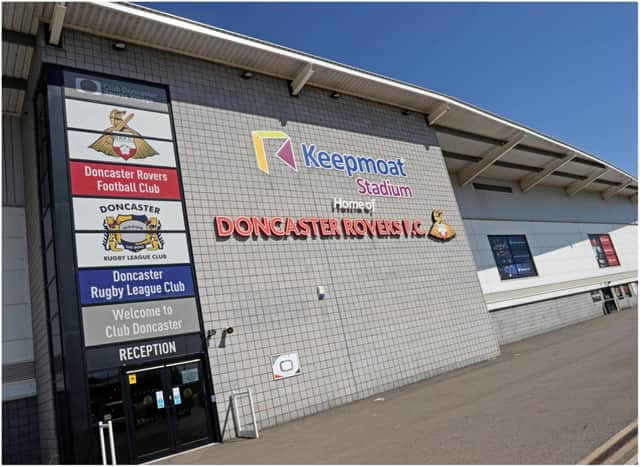 Doncaster's Keepmoat Stadium.
Several readers have contacted us to ask why the event can go ahead when rules such as households not mixing and the Rule of Six are in place with the town in the highest level of coronavirus lockdown.
But the event, which is held at the home of Doncaster Rovers is not in breach of any lockdown rules, and measures are in place to protect those attending.
Under Government guidelines, outdoor markets are allowed to go ahead – which is why Doncaster Market is still allowed to trade on market days.
And the same rules apply to the car boot sale, which is an important stream of revenue for Club Doncaster, the organisation which runs the stadium as well as Doncaster Rovers, Doncaster Rugby League Club and Doncaster Belles.
To operate, the market has to work within the Government's Covid-19 guidelines – and bosses have introduced a number of measures to ensure it does.
Each Sunday morning, thousands flock to the stalls located within the car parks at the stadium, which boasts the sale of a wide range of products including fresh meat, food, clothing, confectioneries and more.
Here's the rules in place to minimise the risk of spreading COVID-19 and provide a safe and enjoyable event for all.
Spaces are limited and to enable a one-way system, car park 1, 2 and the inner ring only are in use.
Places are on a first come first served basis.
Visitor entry to the car boot may be limited at peak times to ensure social distancing measures can be observed
Entry to the car boot for visitors is via car park 2 only, with the main exit being from car park 1 (at the end of the one-way system).
There is no right turn into the stadium for traffic (traders or visitors).
Payment is strictly on entry for all traders, car booters and car parking. Wherever possible, please use the correct amount.
There is a one-way system in place. Traders will not be allocated their 'usual' space and will be allocated a space on arrival on the one-way system.
Traders are advised to wear face masks / coverings and have hand sanitiser for themselves and customers where possible
Visitors are also advised to wear face masks or coverings whilst on site.
Hand sanitiser stations will be available, however all visitors are advised to bring hand sanitiser with them
Plenty of signage will be in place to advice traders and visitors of the measures in place
Limited toilet facilities will be available – these will be disinfected regularly.
Parking for visitors will be available in car park 3.
Visitors are kindly requested not to approach stall holders until they are set up to trade.