Row blows up between 100-year-old Doncaster allotments group and 50-year-old boat club over parking
Users of a 100 year old Doncaster allotment site have waded into a blazing row with a boat club over parking.
Tuesday, 4th May 2021, 2:42 pm
Users of the Strawberry Island allotments, in Wheatley, which marked their centenary this year, have been told they will no longer be able to park in spaces that they have traditionally used at the neighbouring boat club, which was 50 years old last year, because they have been using too many spaces, to the detriment of boat club members.
"They are saying it's all their land and they pay rent for it, and it's not looking promising for us. We are planning to picket the main gate.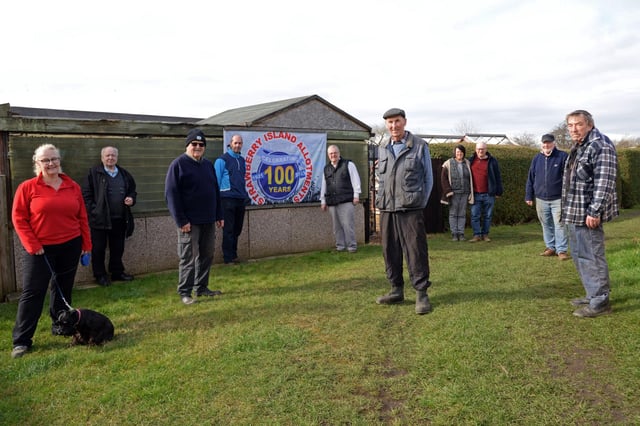 Celebrating 100 years of Strawberry Island Allotments are l-r Marie Jeeves and Tilly, Tony Mulhall, Robin Story, Vice Chairman of the SIAA, Carl Probert, Bob Peace, Charlie Bennett, Chairman of the Strawberry Island Allotments Association, Sandra and Andy Faulkner, Russ Haywood and John Hill. NDFP-09-03-21-StrawberryIsland 2-NMSY
"Some of our lads have ripped the notices down after seeing them put up.
"We don't cause any problems for the boat club. There are people who travel from Armthorpe and Dunsville, and there are a lot of double yellow lines on Milethorn Road. It will cause problems for people having deliveries like compost."
Strawberry Island Boat Club's commodore, Paul Mellors, said its members had paid for the hard surfacing on the car park and had tried to reach a formal agreement with the allotment society over parking, which would have provided them with six parking spaces, but the allotment users would not meet them.
He said in the past its members have had situation where they have not been able to access their boats, and it was the club's responsibilty to protect its members.
But they had received no response to their offer, so had set a deadline of May 14.
"We have had an extraordinary number of cars parked on our land," he said. "It has been a point of contention for years."
"If agreement can't be reached by then, we'll be restricting access," he said. "We think we're being reasonable, offering parking that we don't have to. The offer is still on the table until May 14."
He said the allotment holders would still have access to their plots by foot.
In these confusing and worrying times, local journalism is more vital than ever. Thanks to everyone who helps us ask the questions that matter by taking out a subscription or buying a paper. We stand together. Liam Hoden