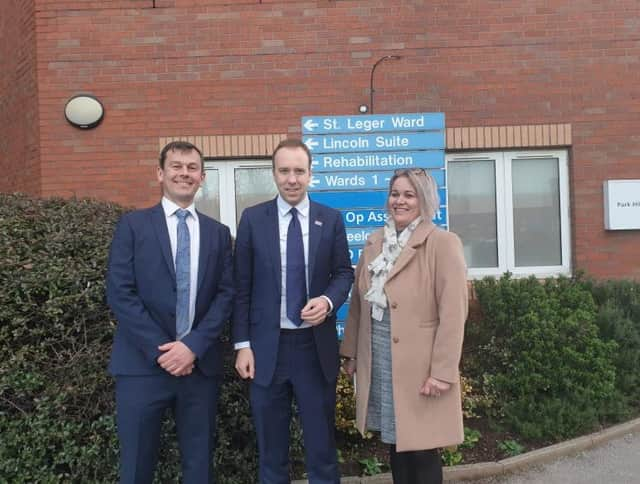 Don Valley MP Nick Fletcher, health secretary Matt Hancock and Conservative DMBC group leader Jane Cox
Jane Cox, Conservative group leader on Doncaster Council, said the increased vote share from the 2017 local elections was 'not a high point' and there was 'lots more room' to progress.
But despite a disastrous night for Labour in many traditional council areas like County Durham and next door in Rotherham, the Conservatives in Doncaster picked up just three seats from Labour.
The party added one councillor in Bessacarr, Norton & Askern and Stainforth & Barnby Dun wards.
Conservative councillors Steve and Jane Cox with Prime Minister Boris Johnson in 2019
Labour also returned Ros Jones as elected mayor for a third term, albeit with a reduced majority.
But Coun Cox said the increased vote share in both the mayoral and councillor elections went some way in 'turning Doncaster blue'.
Asked what the reception was on the doorstep for mayoral candidate James Hart and prospective candidates, Cox said: "I don't think I'm surprised anymore I think after the general election in 2019.
"People are far more far more happy to admit they vote Conservative. Instead of being ashamed, they're quite happy to say it.
"I think as we move on in time, that's only going to change more and more.
"James was received extremely positively around Doncaster. He also reduced the current mass majority by nearly half. So I think that's a positive step in turning Doncaster blue."
Jones had her majority reduced from 2017 and Cox said it had helped the Tory candidate in Hart was local, a businessman and a former councillor.
The 2017 candidate was parachuted in from Watford.
"People like to vote for someone who is local and that person understands the borough," Cox added.
"I think they appreciated that he was a businessman, he had previously been a councillor and has a very good knowledge of what's going on which went down well with people."
Conservatives in Doncaster did not make the gains that others in northern England did. Rotherham Council had no Tory councillors before the election and 24 hours later – 20 were elected.
But Cox said this was work in progress and this election was a stepping stone to further success.
"We've chipped away at their vote. There's a big swing towards the Conservatives here.
"I think in the next next election and the one after that, we'll see huge differences in the makeup of this council.
"Nobody's ashamed to be a Tory anymore. We came very close in lots of wards, including Hatfield. We made inroads in two labour heartlands of Stainforth and Askern. So I think the picture is changing.
"I think much of the Labour vote has gone for a generation because I just don't think the Labour party listens, I just think they just tell people what to think and they don't allow them to think for themselves.
"We hear a lot less from people who say: 'I can't vote for you, my grandad would turn in his grave'.
"People do say they've been a lifelong Labour supporter, but they're not the party for them anymore and not the party is not what it used to be. I think a lot of those sort of voters feel a bit in the wilderness.
"I think there's far more room for us to progress," Cox added.
"I think over the next four years, things are going to fundamentally change. I think in the next round of elections, things will be very different and that's just from talking to residents."
*