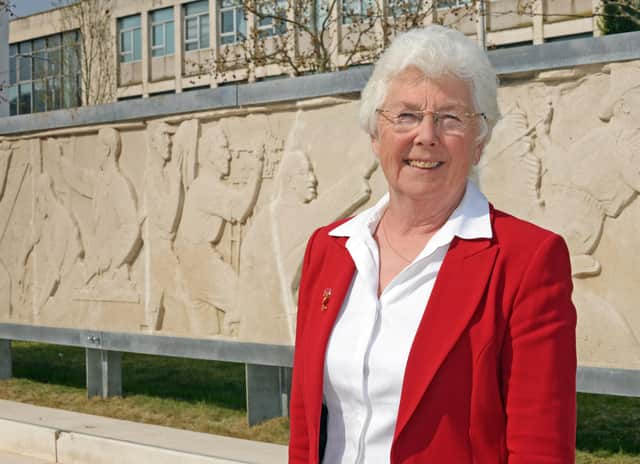 Ros Jones, Labour Mayoral candidate, pictured. Picture: NDFP-20-04-21-RosJones 6-NMSY
Jones, who is looking for a third term as Doncaster's elected mayor, said she had 'unfinished business' and looks to haul the borough back from the massive impact the coronavirus pandemic has had.
Speaking to the Local Democracy Reporting Service, Jones said: "You've got to have someone as mayor who actually relates to the people, knows what's happening, knows what's happening in communities, and starts delivering."
Despite being elected to the position twice before, Jones will not have an easy time as she did in 2017 where she was elected on the first round of voting.
Five of the candidates in the Doncaster mayoral election. (clockwise from top left) Frank Calladine (Independent), Warren Draper (Green Party), Andy Budden (Yorkshire Party), Joan Briggs (Independent), Surgit Singh (Reform UK)
The Conservatives, buoyed by electing their first MP since the 1960s, will be hoping to carry over the momentum from the 2019 victory in the Don Valley constituency.
The candidate in James Hart this time is a former councillor living in Hatfield. The previous candidate was parachuted in from Watford.
The Tories are also standing a near full list of candidates for elected councillors – the first time this has ever happened.
In her pledges for a third term, Jones wants to 'lead a campaign' to offer vaccination to every adult by the end of July and to re-open safe workplaces, shops and leisure facilities.
The town was buzzing with activity.
Another point on her agenda will be to support local high streets, firms and people by bringing better jobs and improving skills.
The Labour candidate also wants to provide 'rapid responses' to fly-tipping, bring in more CCTV to tackle drugs, anti-social behaviour and crime more generally.
Jones has pledged to plant 'one million trees over the next 10 years, bring more railway station upgrades, more cycle lanes and more electric vehicle charging points.
When asked why residents should back her for a third stint in office, she said: "I believe that I'm driving this town in the right way, we have unfinished business" Jones said.
Walkers stick to the one way system which has been implemented at Lakeside to aid social distancing
"If you look at before the pandemic we've never done so well. If you look at employment rates, they were up.
"The number of businesses had gone up, higher than we've ever seen, we've had the best house building rates in the past five years – over 1,000 a year for the past five years.
"We've also invested large sums of money to actually dig deep and do the work required on our social housing and private housing, to get them fit for the 21st century to correspond with the climate change.
"If you see my past record alone, I think it actually demonstrates how well that we have done and will continue to do."
Jones said under her tenure, the council had been 'turned around' with the help of pulling together both the public and private sector partners under the much publicised 'Team Doncaster' mantra.
Doncaster North MP Ed Miliband once described Doncaster Council in the past as a 'basket case' local authority.
Hampered by public scandals, from the notorious 'Donnygate' affair to dreadful children's services which was investigated at length following the Edlington case of 2009.
The council today is a different place to back then and Jones said she has steered the council away from its dark past.
"I think you will see that we've actually turned this authority around," Jones said.
"It's about looking at past records going from an authority that was in disarray to going to support someone who has turned things around and I did that with both our chief executives (Jo Miller and Damian Allen) because it is teamwork that does this.
"More importantly, you've got to have someone who actually relates to the people, knows what's happening, knows what's happening in communities, and starts delivering."
Jones said the biggest issue short term was recovery from the pandemic, keep council spending through Doncaster firms as much as possible and to look towards lowering carbon emissions towards a previous pledge to be net zero by 2040.
When asked about what needed to be done still, Jones said despite education results improving for borough children, there was still more to do in raising the bar higher.
The Labour candidate also hit out at opposition Conservatives for 'not knowing the full facts' on council finances in terms of coronavirus relief money.
Jones, an accountant by profession, said the opposition Tories had not presented an alternative budget in her time as mayor and hit out at austerity measures the council has had to deal with and added 51 per cent of the budget had been cut since 2010.
"I'm the one who's got the knowledge that actually delivered after £120 million pounds worth of cuts.
"So when you hear 'you've just got X amount of money' (from Government) and quoting sums without knowing the full facts, (Conservatives) haven't got a grip on what's been done.
"It's also about team working and it is Team Doncaster with the delivery and therefore I believe people should vote Labour because we are showing we are delivering for Doncaster, we are delivering locally and I'm passionate that we keep driving this town forward.
"We've got to step up again, we've had great achievements pre-pandemic, now we've got to go further and get people in jobs to get growth."
Mayoral candidates in full:
Joan Briggs - Independent
Andy Budden - Yorkshire Party
Frank Calladine - Independent
Warren Draper - Green Party
James Hart - Conservative
*