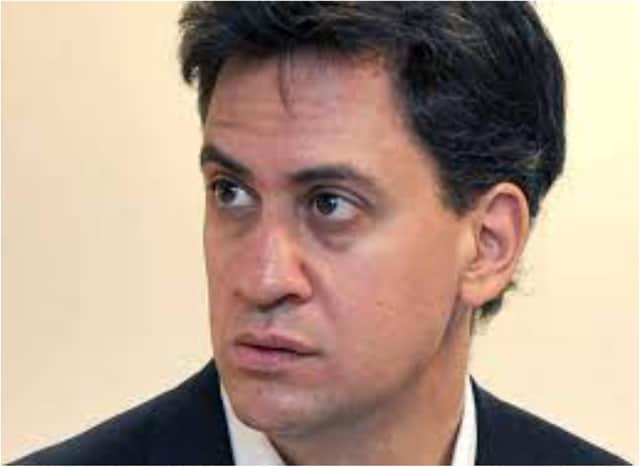 Ed Miliband
The party said that government has already received over £4.4bn from the Mineworkers' Pension Scheme as a result of the arrangement set up in 1994.
This gives 50 per cent of any surplus to the Treasury, and according to the BEIS Select Committee, government is due to receive almost £2bn more including £1.2bn from the Investment Reserve Fund.
The Mineworkers' Pension Scheme has around 152,000 members including hundreds in Doncaster.
The current average pension for former miners in the scheme is around £84 a week, and over half of members receive less than the average pension, say Labour figures.
Labour is calling on the government to return the £1.2bn reserve fund to pensioners and change the surplus sharing agreement to give more to pensioners.
According to estimates by the National Union of Miners, returning the £1.2bn to members of the scheme would equate to £14 per week uplift for members on the average pension of £84 per week, or £728 a year.
During the 2019 general election campaign, when asked about the mineworkers' pension scheme, Boris Johnson said: "We will make sure that all their cash is fully protected and returned. I have looked into it and we will ensure that's done."
But Labour said he has failed to keep that promise.
Ed Miliband, MP for Doncaster North and Shadow Business Secretary, said: "It's wrong and scandalous that the Conservative government set up an arrangement which was a totally unjustified raid on miners' pensions. It is high time that the government acted to right this historic wrong.
"Labour would do the right thing and ensure miners get the pensions to which they are entitled, including returning £1.2bn surplus money which would make a difference to retired miners and their families.
"Labour is fighting for justice for retired miners and their families. Returning this money to those who rightly deserve it is the right and just thing to do. We demand that the government acts."
Chris Kitchen, Secretary of the National Union of Mineworkers, said the 'theft' of miners' pensions has been a 'grave injustice' and government must act to rectify it.
A government spokesman said: "Mineworkers' Pension Scheme members are receiving payments 33 per cent higher than they would have been thanks to the Government's guarantee.
On most occasions, the scheme has been in surplus, and scheme members have received bonuses in addition to their guaranteed pension.
"We remain resolutely committed to protecting the pensions of mineworkers, are carefully reviewing the findings of the recent Select Committee's report, and will consider all recommendations made."
*