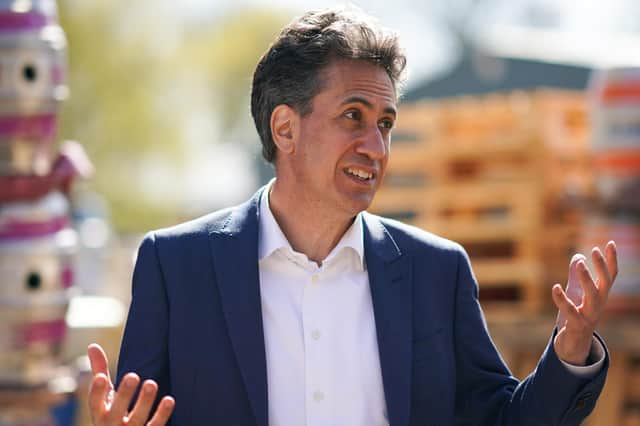 Doncaster North MP Ed Miliband
The Doncaster North MP, who has recently published a new book - 'Go Big' - explained that council officers and emergency services working alongside 'community heroes' who offered spaces, support and galvanised areas to help others, should be noted down in London.
He also said that Doncaster has a 'special claim' in being one of the priority areas for new flood defences following on from two big floods in the space of 12 years.
Speaking at length, Miliband also spoke about why he continued as a Doncaster MP after he lost the 2015 general election and subsequently resigned as leader.
Ed Miliband meets with residents in Bentley following the flooding in 2019
In his book, Miliband speaks a lot about the flooding events in Doncaster and those in Bentley who were told after 2007 that it was a 'one in a hundred year event - only to be hit again just 12 years later.
Devastating floods which hit Doncaster in 2019 cost the council over £650,000 in recovery and the equivalent of 2,200 Olympic-sized swimming pools were drained away from one borough village alone every hour for 18 days.
The area had a month's rainfall in just one day which led to 51 road closures, 1,200 homes were advised to evacuate and the council received 2,000 calls to their emergency helpline.
Figures also show 80,000 sandbags were issued and 700 properties were flooded or deemed 'unlivable'.
The cover of Ed Miliband's new book
People also had problems accessing adequate insurance payouts and residents criticised some firms for extortionate renewal payments after 2007. Mayor Ros Jones previously said that one family were quoted £7,500 for a home insurance renewal after their property was flooded.
"Quite frankly, a lot needs to happen and Doncaster needs the best flood defences it can get. I'm in continuous discussions with the Environment Agency and the council," Miliband said.
"There's this sort of one in a hundred year notion in terms of the flooding but this whole thing is completely out of the window. The good thing is that the Environment Agency is aware of this.
"There are big lessons about the way the insurance sector works.
Doncaster MP Ed Miliband.
"From some experiences that some people have had with trying to access their insurer after the flooding, some of the ways some insurers have worked has been terrible. We've got to do everything we can to try and stop this happening again.
"We are going to have to invest a lot more in flood defences. I've made this point to ministers. The Government has said they're trying to invest more, but we think we have an extra claim on this in Doncaster, because of 2007 and 2019 which shows we are extr vulnerable it shows we are really vulnerable.
"David Cameron once said that money isn't an option in relation to flooding in Somerset. That should be the approach in relation to Government and I think we have a special claim, given what's happened here in the space of 12 years."
Half of one chapter of his recent book talks about how the rulebook of local government was 'teared up' in order to properly help people in a time of crisis.
Miliband said Government could learn a lot from how Doncaster came together and allow people in their communities to take on bigger responsibilities than those from London.
"I think the way Doncaster worked during the flood has a much bigger lesson, for the way the Government should work in these situations," Miliband said.
"When I say Doncaster, I don't just mean the council, I mean, the council and the community in the way they often work together.
"I think it's like the everyday heroes of Doncaster and what they did during those floods and how they elevated the response to what was a massive crisis in our communities.
"People often think Government and local councils are all about rules. Pat Hagan (communities officer) from Doncaster Council said to me in the church in Fishlake 'it was time to tear up the rule book'.
"That really stuck with me because the rules were not really designed for an emergency of this magnitude and I think there's a real lesson there for Government about giving that discretion to frontline workers, because they know their communities, they know what needs to happen."
Miliband, who mentioned several people in and praised them for their dedication to others during the floods and said 'they were the heroes'.
Some six years on from losing the 2015 general election as Labour leader, Miliband resigned as the head of the party as it became clear that former PM David Cameron would command a majority in Parliament.
Many would have left and made a lot of money in other areas. His own brother David, who lost out in the Labour leadership to Ed, went on to become a CEO of a major charity in the United States.
Ed said recently that two conversations with voters on the doorstep reminded him why he did the right thing in carrying on as an MP in Doncaster.
"I felt at the time like I owe my constituents a lot," Miliband said.
"They've been incredibly loyal to me and I felt it wasn't the right thing to walk away. I also felt that I still feel you don't need to be the leader of a political party in order to make a contribution.
"There's still lots of things to fight for. I was thinking about the local elections just last month about two conversations that I had on the doorstep, about the predicament some people are in.
"It reminded me there's still lots to fight for and I know people still have doubts about politics and politicians and if we can make a difference but you have to fight for the people in your area, if they have a problem you do your utmost to help whenever you can."
"It was quite hard losing the election, but I could still try and make a difference and that's why I'm still around."
On the book itself, Miliband said: "The book is basically ideas to make our country better. Learning from around the world, learning from what we're doing here in the UK.
"It's really saying, sometimes it can feel like there's no solution to the problems that exist but whether it's the problem of housing and the need to build affordable housing in a country like Austria, what they do, mums and dads have having time with their newborn babies, if you look at what some of the Scandinavian Nordic countries do, fathers leave, universal childcare, there is a solution.
"On climate change, if you look at what Joe Biden is doing in the US, investing in jobs in communities, which are like ours, jobs of the future.
"I think it's true to say there are solutions to the problems we face and as in the title, we've got to go big, we've got to go to recognise that the issues we face are big and we need big responses."
*