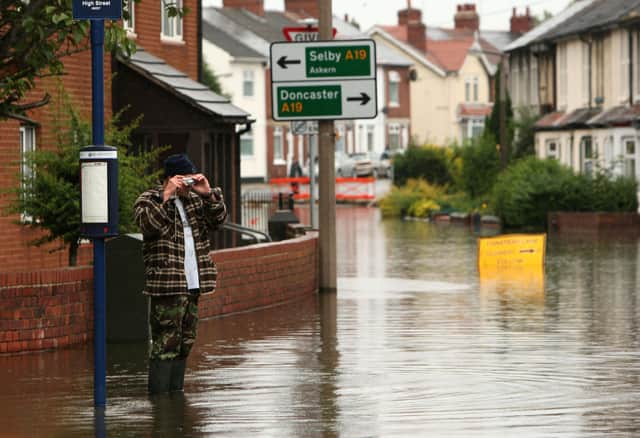 Flooding in Bentley
From the £32 million it will receive from Government in the 'gainshare fund' – £4.6 million will be used for the borough to trial electric buses at £1.9 million.
Doncaster was chosen for the pilot in the region as it has the flattest topography.
A further £2.7 million will fund retrofitting for an unspecified number of homes across the borough to replace gas boilers with more energy efficient and green heat pumps.
Doncaster will also benefit from £1.8 million to bolster four flood defence schemes.
Around £1 million will be spent on a scheme in Bentley, £400,000 for a borough-wide surface water alleviation scheme, £200,000 for natural flood management in Conisbrough and a further £200,000 for a scheme in Tickhill.
Doncaster, as well as the rest of South Yorkshire, will benefit from a raft of new bus stops with real-time electronic arrivals.
Active travel schemes for better cycling and walking facilities along a new Conisbrough to Warmsworth route and plans for something similar in Thorne total £426,000.
The plans come alongside the announcement of a massive £860 million stimulus package to South Yorkshire with £500 million used for borrowing following an agreement between Mayor Dan Jarvis and the Treasury.
The investment is being heralded as a 'New Deal for South Yorkshire', which aims to unleash South Yorkshire's potential with the hope of delivering recovery and renewal for the region after the pandemic.
Hundreds of millions will be invested into schemes to protect, create and attract thousands of jobs, train workers and apprentices, back businesses to locate and grow in the region, and transform infrastructure – building South Yorkshire's transport network and revitalising its high streets and towns, SCR bosses have said.
Mayor Dan Jarvis said: "We're working to create a stronger, greener, fairer South Yorkshire for all – delivering not just recovery, but renewal. Not just a bigger economy, but a better one.
"We know South Yorkshire's people and industry rightly have enormous pride in our story so far. We're reinforcing our reputation as the heartland of British industry and innovation, and we're making our region an even better place to live, work and invest."
*
In these confusing and worrying times, local journalism is more vital than ever. Thanks to everyone who helps us ask the questions that matter by taking out a subscription or buying a paper. We stand together. Liam Hoden, editor.