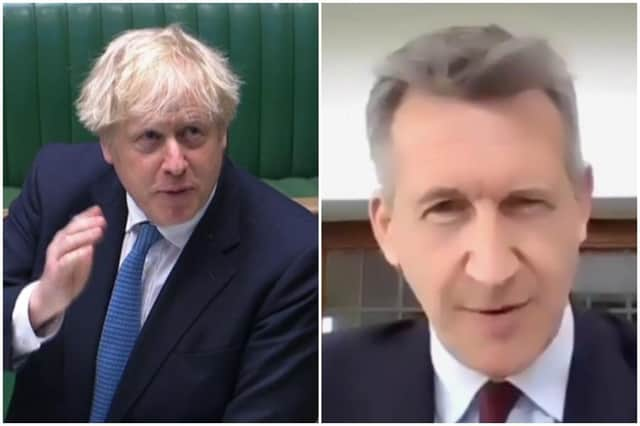 Prime Minister Boris Johnson and Sheffield City Region mayor Dan Jarvis
Speaking in the House of Commons on Wednesday, Mayor Jarvis, who is also the MP for Barnsley Central, asked for a 'reset of relationships' with metro mayors in England to work closely with them to get regional economies back on track.
The Prime Minister, in response, agreed to work closely with mayors across the country but said he preferred regional leaders 'who champion their area' insteading of 'people who whinge and blame central government for things'.
Mayor Jarvis, who is currently working in both his mayoral and MP role at the same time, has said he will have a decision to make before the 2022 Sheffield City Region election on which job he wants to continue doing.
Jarvis said he took the job on as the role didn't have a paid salary and wanted to get the devolution agreement finalised, which happened last year.
Mayor Jarvis said: "I'm sure the Prime Minister will want to warmly welcome the newly elected metro mayors Nick Johnson, Dan Norris and of course, Tracey Brabin.
"As the Prime Minister well knows, serving as a mayor is an immense privilege but as Covid-19 has proved, it is not without its frustrations.
"Can I urge the Prime Minister to use this moment, to reset the relationship with the English mayors and work in collaboration and closely with us as we emerge from the pandemic."
In response, Mr Johnson said: "Mr Speaker,I certainly can and I believe the mayors and the mayoral authorities should have their say.
"In my experience, I think there are two types of mayor and the mayoral project is a great one and it tends to produce mayors who champion their area and get on and take responsibility or people who whinge and blame central government for things.
"I much prefer type A than to type B, Mr Speaker."
*