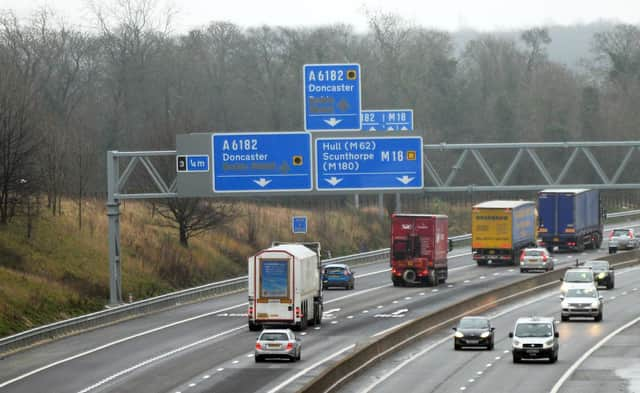 The M18 at Loversall, heading towards junction 3. Picture: Marie Caley NDFP M18 MC 9
Doncaster's 'green gateway' plans to create ribbons of woodland and green space between expanding communities, in particular along key transport routes such as the M18 motorway, A18 and A638.
The 'common cause agreement' will see joint working between the partners in a pledge to improve Doncaster's natural environment, including the creation of new green spaces.
Both DMBC and YWT will continue to work with the private sector in the areas which include Carr Lodge, Mother Drain and River Torne green corridor, Amazon Lake and the iPort to improve green space and links between Doncaster town centre and the open countryside.
Ros Jones said: "We're really pleased to sign this common cause agreement with Yorkshire Wildlife Trust and strengthen our bond and commitment to improving Doncaster's natural environment.
"These green spaces will protect wildlife habitats and species and enhance the health and well-being of people living and working in Doncaster by helping people become closer to nature.
"This signifies another positive step for Doncaster in tackling the climate and biodiversity emergency and how we will achieve our goals by working together to invest in new and innovative ways of looking after our environment."
Yorkshire Wildlife Trust CEO, Rachael Bice, said: "We are delighted to have signed this common cause agreement that will see us further protecting and restoring green spaces in and around Doncaster.
"This partnership will bring benefits to vital habitats and much of our threatened wildlife, as well as to the wider natural environment, and the health and wellbeing of those living and working in the borough.
"We hope to showcase the true connection between people and nature and build upon our conservation success in the area.
"Potteric Carr is important nationally for bitterns, marsh harriers and bearded tits – all three species are just starting to recover from historic low numbers across the country – and their breeding success at our Doncaster nature reserve demonstrates how we can encourage the recovery of iconic wildlife through the creation and restoration of resilient ecosystems.
"We are looking forward to sharing our knowledge, inspiring public awareness of the rich and local natural assets."
*