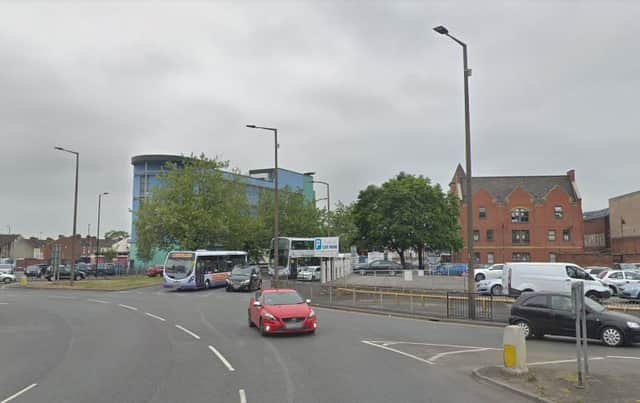 The Cleveland Street roundabout where it was proposed the digital billboard would have been placed
Alight Media Ltd wanted to install a 48-sheet digital advertising display on the Cleveland Street roundabout close to the car park.
Doncaster Council rejected the application back in June 2020 and cited traffic safety concerns to drivers if such display was installed in this location.
The applicant appealed to the Government's planning inspectorate but they sided with the council following a visit to the location.
The inspector, listed as AM Nilsson, said due to its size and changing images, it would be a 'distraction to motorists' and would 'risk highway safety'.
The proposed development would display static, illuminated images mounted on poles occupying a raised position above the line of traffic fronting onto Cleveland Street roundabout.
The advertisement would face directly towards the A630 Cleveland Street junction at the edge of Portland Place car park in the direct line of sight to the four lanes of traffic which approach the roundabout.
It would also be adjacent to the A630 Trafford Way junction where drivers are required to observe traffic to the right.
"For drivers negotiating the roundabout, significant attention needs to be paid to highway signs, lane arrangements and traffic conditions," Mr Nilsson said.
"Given its scale and illumination, it would be an unnecessary distraction for the concentration that is required. The illumination and the changes in images would further distract motorists and thus risking highway safety.
"It's size and siting, mounted on poles, would lead to it being a dominant and obtrusive feature.
"It would occupy a prominent position and is sufficiently removed from the buildings to the rear, and as a result, due to its size, would appear isolated and incongruous.
"The display of illuminated digital images would be striking and prominent and would not integrate well into the street scene. For these reasons, the appeal proposal would create an alien feature.
"I am not persuaded that any revenue that would be generated by the development would justify the harm."
*