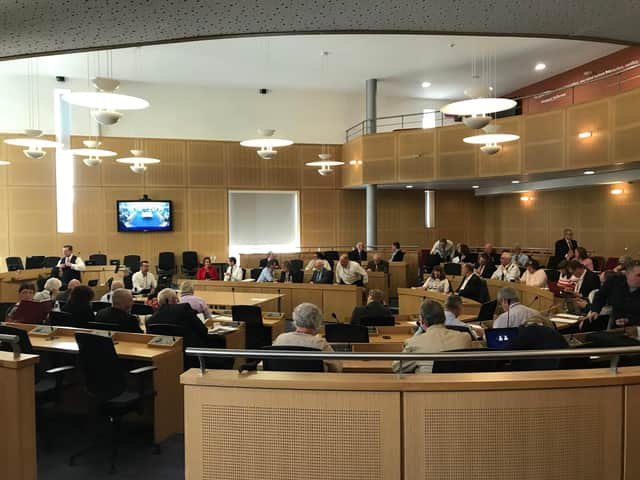 Doncaster Council chamber
In a statement released by the Ministry for Housing, Communities and Local Government, (MHCLG) face-to-face meetings in Civic Office could resume from May 7, a day after the local and mayoral elections.
The first meeting back in Civic Office will be Full Council on May 21.
Doncaster Council bosses are said to be looking at the guidance and will report back on provisions to make meetings safe.
Local Government Minister Luke Hall has written to all council leaders thanking them for their efforts during the pandemic and confirmed given the progress of the vaccination programme and the roadmap for lifting Covid-19 restrictions, the Government has decided not to bring forward the laws to continue virtual meetings in full.
Government has now launched a consultation which will ask opinions on a 'hybrid' option where the majority of councillors will attend meetings in person with some others taking part online.
The MHCLG said in order to support councils, guidance had been updated to help them operate safely and securely, including using existing powers to reduce the number of face-to-face meetings deemed necessary.
Damian Allen, Doncaster Council chief executive, said: "We will consider the guidance and will discuss with Public Health colleagues to ensure we provide safe access to our meetings in the future."
Minister of State for Regional Growth and Local Government Luke Hall said: "Councils continue to play a vital role in our response to the pandemic and I am grateful for how they have used emergency powers introduced a year ago to continue to operate at a difficult time.
"As the vaccine roll-out continues and restrictions are lifted, councils holding face-to-face meetings from 7 May are being given the support and guidance they need to do so in a safe and secure way.
"I am keen to hear from councils and local residents about their experiences of virtual meetings so that we can properly consider whether to make these a permanent option."
*