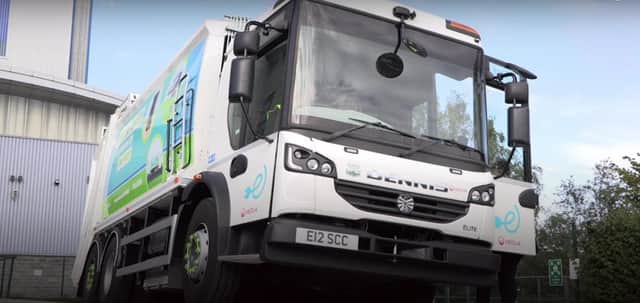 An electric bin lorry similar to the one Doncaster Council are currently trialling
The Local Democracy Reporting Service understands that waste provider Suez had offered a 'try before you buy' arrangement with the council to see if they are viable for the future.
Council bosses are likely to discuss the proposals following the trial which has lasted a week.
Doncaster Council could follow the lead of others in the country like South Cambridgeshire District and Cambridge City Councils.
Both authorities purchased an electric bin lorry at around £400,000 last year.
At waste capacity the electric refuse vehicle will weigh around 26 tonnes and take around seven to eight hours to recharge, able to complete a full day of collection rounds and returning to the depot with charge remaining in the battery.
While the £400,000 price tag is more than a standard diesel refuse lorry, the council bosses in Cambridgeshire said they expect the whole-life cost to be at the very least the same – if not less – due to reduced fuel and running costs.
Sheffield, Oxford, Walsall, Nottingham, Redditch and Brighton have also trialled the vehicles.
The Doncaster Council's arrangement with Suez along with their petrol and diesel wagons, lasts until 2025.
Suez has provided waste services in Doncaster for nearly 30 years.
DMBC bosses are looking into the technology as they aspire to cut down on carbon emissions for their own climate emergency targets as an authority.
Coun Mark Houlbrook, cabinet member for environment, sustainability and waste, said: "Doncaster Council and waste contractors, Suez, are really pleased to be able to trial the use of an electric refuse collection vehicle (RCV).
"While there are more than four years left to run on the existing contract, it was thought beneficial to act now to assess the RCV's performance and consider this as a viable option in the future.
"Both partners are continually looking at the technologies available, such as electric vehicles which contribute to cleaner air. Reducing carbon emissions is just one of many ways in which we can help tackle the ongoing climate emergency."
*