Call for big companies to reduce takeaway packaging to combat litter problem in Doncaster
A petition has been launched in Doncaster to try and limit takeaway packaging blighting borough hotspots such as Lakeside.
Wednesday, 28th April 2021, 1:59 pm
Council candidate Dave Shaw, said big companies needed to do more to stop the spread of litter in beauty spots like Lakeside and other parts of the borough and said rubbish in the area was 'off the scale'.
The petition has been backed by a range of incumbent councillors in the borough from different parties including Labour and Conservative.
Doncaster Council can spend as much as £500,000 a year clearing up incidents of litter and fly-tipping across the borough.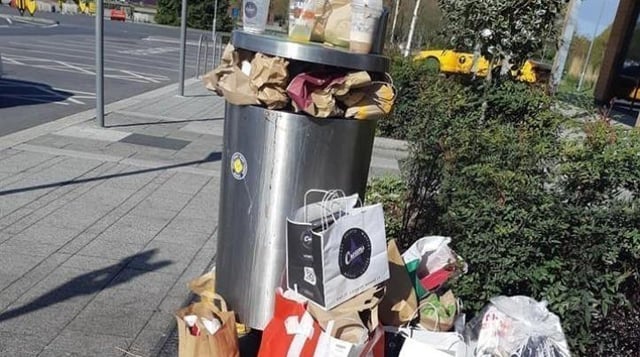 An overflowing waste bin at the Herten Triangle, which has been blighted by litter since opening
But the petition calls for big companies to 'step up' and reduce the source of the problem.
Litter complaints is an issue the council receives regularly and reports have even been lodged of rubbish ending up in the lake at Lakeside.
Incumbent Labour candidate Shaw, said: "Companies that produce huge amounts of takeaway waste need to step up, otherwise their corporate social responsibility policies are just green wash.
"The area around the Herten Triangle and Lakeside in Doncaster, is blighted by such packaging. Much of which ends up in the lake causing issues of pollution and impacting wildlife.
"The amount of waste is off the scale, councils across the country are disappearing under a tsunami of rubbish.
"The pandemic and the circumstances created have exacerbated the situation beyond measure, takeaway has been the only option for eating out for the best part of 12 months.
"Everywhere people are getting angry and upset about the issue, I wanted to unite those in Doncaster who want to tackle the problem, who care, and amplify our voices.
"For me it's important that we focus on the two groups responsible.Those that produce irresponsibly high levels packaging, and those that discard it without a thought for the damage it creates."
To sign the petition, visit tinyurl.com/hwmy2xyu
To see a full list of council candidates in the upcoming elections, visit tinyurl.com/zjmp6x
*