Residents' association "considering next steps" following Rose Hill housing development approval
Members of a residents' association in Doncaster have said they will "continue the fight" to save a local woodland which is set to become a housing development.
Watch more of our videos on Shots! 
and live on Freeview channel 276
Visit Shots! now
On Tuesday (14 October), Doncaster Council's planning committee voted to approve a housing development on Bessacarr woodland Rose Hill Rise after rejecting the same application six months prior.
The plans have been highly protested by nearby residents, who formed the Rose Hill Residents' Association (RHRA) to demonstrate against development on the land.
Bessacarr's three ward councillors have also opposed the application since it was first lodged.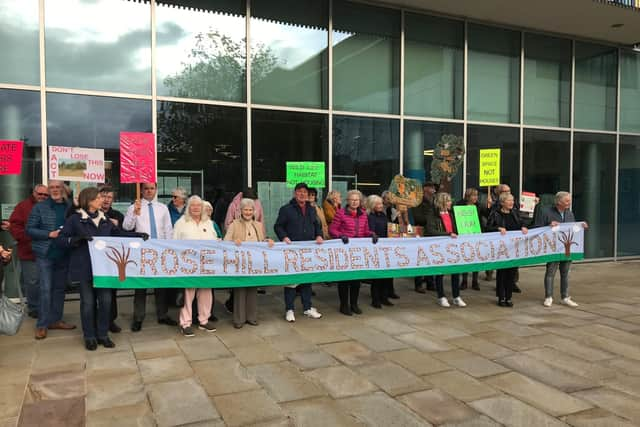 Members of the RHRA have expressed their anger over the decision in a statement led by Secretary Wendy Wright:
"We are extremely disappointed and saddened by the Planning Committee's decision to overturn its democratic vote taken in March to refuse planning permission to Miller Homes to build on Rose Hill.
"We turned up at [the] Planning Committee meeting expecting that our objections, together with those of organisations such as the Yorkshire Wildlife Trust, the South Yorkshire Climate Alliance and ReForest Britain, would be listened to and that the Committee would take all the evidence into account in reaching its decision. We were wrong.
"This decision will result in the destruction of what Yorkshire Wildlife Trust says is an important site in an ecological network in an ecologically-sensitive location, the loss of valuable rewilded habitat relied upon by protected and endangered species, and the removal of 100s of trees and significant areas of woodland.
"No-one should believe anything the Council says about protecting biodiversity, avoiding loss of green spaces, wanting to increase the number of trees, and tackling the climate emergency after this.
"This development will also cause significant traffic and highway safety issues for residents and users of the A638 Bawtry Road in Bessacarr. This was a dark day for biodiversity, wildlife and nature in the city as well as for the integrity of Doncaster's planning system.
"We are considering our next steps and will continue our fight to save Rose Hill."
Bessacarr councillor Nick Allen added: "I'm really disappointed about the Planning Committee's decision. The new application is not substantially different to the old one. Of course developers can choose to submit new applications but this one exhausted the process by simply making a few token changes which didn't really alter what was on offer.
"As I have said throughout the whole process Rose Hill field is not accessible and the building work will exacerbate the traffic problems on Cantley Lane and Bawtry Road. Commuters are going to experience huge problems on the way to work and the noise is going to cause a nuisance for local people.
"It's been a great campaign and Rose Hill Residents Association should be commended for their work."
They concluded: "Unfortunately, the decision sends a signal that the Council's procedures can simply be repeated until an acceptable decision is made and that is not what the planning process should be about. It is in no one's interests to do that."