"No democracy left": Anger as Rose Hill housing estate approved in council U-turn
Residents have protested the approval of a housing development on a Doncaster woodland, which was resubmitted after being rejected earlier this year.
Watch more of our videos on Shots! 
and live on Freeview channel 276
Visit Shots! now
Doncaster Council's planning committee has voted to approve a resubmitted application for housing on Bessacarr nature spot Rose Hill Rise in an unexpected U-turn.
The committee had previously rejected the controversial plans, which remain almost identical, when they were presented in March.
Development on Rose Hill Rise has been protested extensively by the Rose Hill Residents Association (RHRA) since the land was first advertised for sale in 2017.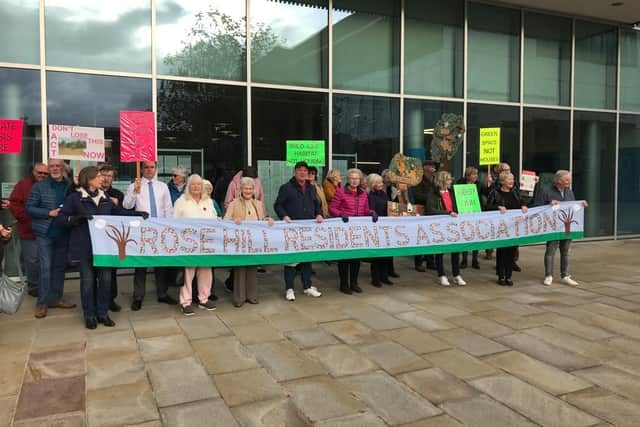 More than 60 members of the public attended the meeting to protest the plans, with a public demonstration taking place outside Doncaster Council's Civic Office beforehand.
Attendees first heard from planning officers, who stated that the application is "fundamentally the same as the one refused."
Changes included an updated traffic survey, which suggests that impacts on traffic are slightly less significant than recorded previously, and updates to homes based on building regulations.
The site includes 34 percent public open space, while developers will be required to fund biodiversity net gain off-site to make up for habitat loss.
Hundreds of thousands of pounds are expected to be contributed, as the development itself will create a biodiversity net loss of over 50 percent.
The developer will also contribute £481,000 to fund 18 places at Hall Cross Academy.
Chris Owen spoke in opposition of the application on behalf of residents.
He said: "Construction will make living in and around Rose Hill a nightmare. Highway safety issues, noise, dust, queues, delays, accidents, one of Doncaster's busiest roads, and a quiet housing estate turned into a construction site.
"The design of this scheme ignores the tree survey which says every tree has value and as many as possible should be maintained, and bulldozes all trees and woodland in its path, destroying ecological interest and all public amenity of this much-loved and much-used space.
"Last time, they wrongly claimed that 115 trees would be lost. Now, no number is given, neither they nor officers want you to know that hundreds of trees including 1 HA of woodland will be destroyed under these plans. That officers either don't know or don't care about the number and value of trees being destroyed should give you serious concerns about the approach they've taken.
"Local authorities must have the trust of those they represent. Please send a message that people can trust that when this committee says no, it means no."
Bessacarr councillors Nick Allen, Majid Khan and Laura Bluff all continued to oppose the application.
Coun. Allen said: "I rest assured knowing what I know now, if this application is again refused I'll see you all in six months' time, if that's the way you go about things. You send a message to the public that your decision making powers are effectively open to being curtailed.
"The role of a council, to represent its residents, is being challenged effectively here in a thoroughly undemocratic and unjust way."
In support of the application, Miller Homes representatives said: "Your professional officers have told you that there are no material considerations to justify a decision that it is not in accordance with your development plan.
"We commend local residents for engaging in the submission in the way that they have, but we are conscious that the submission is very technical and detailed in nature, and we don't want members to be confused or misled on very complex matters."
The planning committee then left the chamber to discuss matters which were excluded from the public.
Upon their return, no member wished to engage in debate.
Seven councillors voted in favour, while only councillors Steve Cox and Gary Stapleton abstained.
Uproar could be heard from the public upon the decision, with several leaving the chamber.
Wendy Wright, Secretary of the RHRA, told the Local Democracy Reporting Service:
"I am absolutely disgusted with this council, they haven't got the backbone to stand up to bullies. There is no democracy left in this council, it was obvious when they all came back that they had been told what to vote, regardless of what the application was all about. If that's what this council stands for, I think this city is in a very sorry state."