'My cousin won the World Cup in 66 - but walking football in Doncaster is the one for me'
Bill Hodgson knows his football.
Saturday, 1st May 2021, 12:00 pm
From a footballing family, his cousin, Ron Flowers was part of the England squad that won the World Cup in 1966. His other cousin, John played for Stoke and Doncaster Rovers, while Bill himself played in Rovers' reserve team.
He may not play at that level anymore.
But Bill is one of a growing band in the borough who are keeping up with their favourite pastime – by adopting walking football.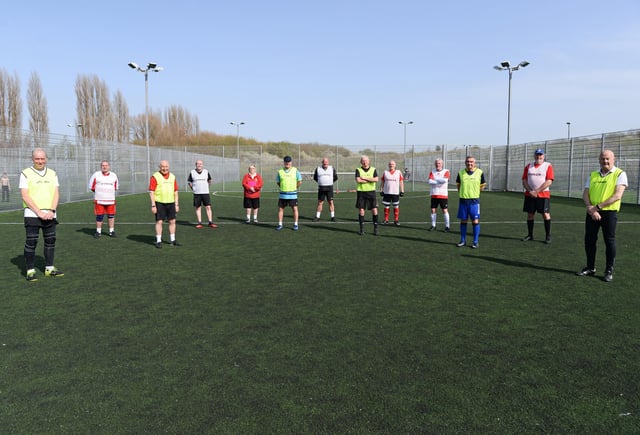 Retro Rovers Walking Football. Jan Milner, Manager and Coach, pictured with players at the Keepmoat Stadium. Picture: NDFP-30-03-21-WalkingFootball 1-NMSY
Bill, from Edlington, takes himself down to the five-a-side pitches at the Keepmoat Stadium every Tuesday, where he meets up with a group of like-minded over 60s who have become firm friends.
And he loves it. and he is delighted to be back after it was shut down for three months during the lockdown.
"For a lot of us it's a Godsend, a real outlet for us to get out and see people," said the 70-year-old. "It's great."
He is one of many who have signed up for the scheme, which was set up by the former Doncaster Belles player, Jan Milner.
Tony Winstanley, pictured. Picture: NDFP-30-03-21-WalkingFootball 9-NMSY
Jan, aged 66, played for the Belles until she seriously injured her leg in 1980.
But she still loved football, and went on to coach locally, with teams including Edlington White Stars.
Her day job was as a care worker for Rotherham Doncaster and South Humber NHS Trust, and within that she set up a football team for people suffering mental health problems.
She stopped coaching in 2015, but still wanted to do something involving football.
David Torrington and Richard Kelley, pictured. Picture: NDFP-30-03-21-WalkingFootball 4-NMSY
"I loved it, and I'd been involved with the game forever," she said. "I didn't know what to do with myself. Then I saw a television advert that had people playing walking football in it, and thought 'we could do this.'"
She said initially she struggled to find people interested. She persevered, and found a handful of people who got a taste for it. They turned into a dozen, and then 20 people.
"It's been great for my mental health," she said. "It's helped me, and it's helped others. We're like a family now.
"Friendships have formed, and they have helped some get through the pandemic."
The game they play is recognisably football. But running is not allowed. Neither is tackling, and Jan referees, as well as shouting encouragement from the side. Rather than a conventional football, they play with the sort of ball used in futsal, which is slightly smaller and heavier.
Jan has been pleased by the way the sessions have helped some of those who come down. "We get people who are shy when they first come here, but it brings them out of themselves," she said. "It is a very welcoming group."
Her players appreciate what she has done for them in setting up the group.
"Jan does a great job," said one of the players, 74-year-old David Torrington, a retired hairdresser from Wadworth. "She comes down here every week to run it."
For Tony Winstanley, a retired RAF veteran, from Auckley, his weekly trip to the Keepmoat for his walking football session is what keeps him going.
He kept playing regular football until he was 47, and then he spent time as the manager of a non league team, Harworth Colliery.
Now aged 71, he was one of the first to start playing in 2015, when the sessions used to be at the Dome leisure centre.
He has refused to let anything stop him playing.
In 2018, he suffered a stroke during one of the sessions, but still returned to playing again.
"I was back in a month," he said. "It had affected my co-ordination and my memory though."
He added: "It is my lifeline – my medication to keep me going. I've had a dodgy ticker, but this is great for my mental health and exercise, and for seeing people."
The oldest among the group which comes to the sessions at the pitches at the Keepmoat Stadium is Les Shaw.
Les, who travels in from Adwick, is aged 83.
He says he has always followed Doncaster Rovers, and played for fun until he was 55. When he heard about walking football, he decided to give it a go, and started to come to the sessions four years ago.
"For me, it is just about great exercise and cameradie," he said. "To be honest, I think I enjoy it more now than when I was young. I've made friends, and now, when we had the lockdown, it was hard to go back to not playing."
At the other end of the spectrum at the age of 60, retired teacher Alan Brown is the youngster of the group.
He has only recently moved the older group, from the over 50s.
Alan, from Mexborough, still plays six-a-side as well, the version where players can run. He said he had not played at as high a level as some of the older players.
He said: "The walking football is a totally different game. The attitude and ethos is all about enjoyment, playing the way the game should be played and with no malice.
"It is people on the same wavelength and that was a great reason to come here. The players here have as much skill as the six-a-side I play, and people play the ball to feet more because you can't run."
He said players still take it seriously and he comes off the pitch sweating. Players get injuries too, using different muscles to the ones in the six a side he plays.
"Everyone is welcome down here though, regardless of skill level," he said.
In these confusing and worrying times, local journalism is more vital than ever. Thanks to everyone who helps us ask the questions that matter by taking out a subscription or buying a paper. We stand together. Liam Hoden, editor.