Legion of litter volunteers have tidied up their neighbourhood - now they start on the rest of Doncaster
Last October Jayne Johnson received bad news.
Sunday, 25th April 2021, 12:00 pm
Already furloughed from her job as a receptionist with a Doncaster insurance company, she discovered she was also going to be made redundant.
But there was no way Jayne, aged 61, was going to let it get her down.
And she reacted by setting up a group which is now transforming some of Doncaster's beauty spots and public spaces.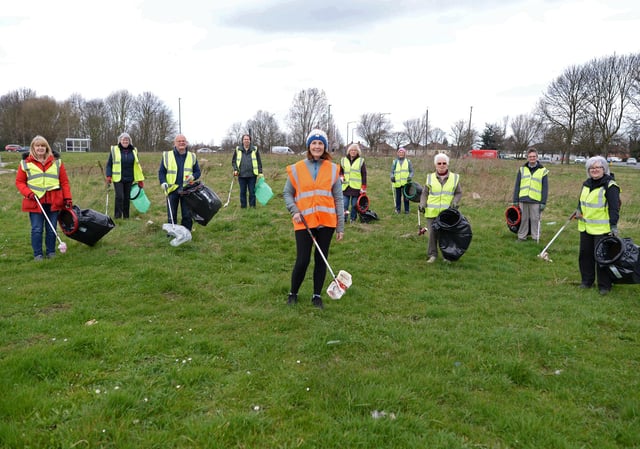 Jayne Johnson, Wheatley Hills Litter Pickers group Co-ordinator, pictured with volunteers. Picture: NDFP-23-03-21-WheatleyHillsLitter 4-NMSY
Jayne, from Wheatley Hills, is now the driving force behind the recently formed Wheatley Hills Litter Pickers, which, after recently finding new paid work as well, has become a busy hobby for her. She set it up after she saw the extent of the local littler problem while walking her dogs, Billy, a jack russell, and Charlie, a parson's russell, with partner Graham Harker.
Jayne said: "I was furloughed during the first lockdown, and then made redundant in October.
"But me and my partner are big dog walkers, and we were going out and about a lot with the dogs during the day. Because of that, we came across a lot of litter, and I was concerned that it was becoming out of control.
Volunteer Mike Hogg, pictured. Picture: NDFP-23-03-21-WheatleyHillsLitter 3-NMSY
"I approached the council about it, and they have limited resources. So I put something out on an app I use called Next Door, just saying that I was fed up with the amount of litter around, and asking if anyone was interested in getting together to do a litter pick.
"It got a tremendous response – much more than I was expecting. We've now got a group that has around 40 volunteers."
The group was set up at a time when concerns over litter and fly-tipping were emerging in Doncaster.
In February, it was revealed that Doncaster Council workers battling the ongoing scourge of fly-tipping had a backlog of over 1,000 cases across Doncaster to attend to by the end of 2020.
Volunteers from Wheatley Hills Litter Pickers, make their way around Shaw Lane Industrial Estate, picking litter. Picture: NDFP-23-03-21-WheatleyHillsLitter 7-NMSY
Officials reported a 36 per cent increase in just three months from October to December 2020. The council recently announced extra money for covert CCTV to catch more fly-tippers in the act. And in October, Doncaster was described as the third-worst place in UK for fly-tipping.
Coincidentally, it was in February that the Wheatley Hills group was set up. They contacted the council to ask for litter pickers, but many members bought their own equipment.
By March, they were ready to go.
"We decided to concentrate on certain areas. So we had our first big session on Shaw Lane. After that we tried heading to the lane that leads up to Sandall Beat Wood. We were picking up areas that we thought were particularly bad, and we've been picking where to go ourselves as a group.
Volunteer Jackie Scrivener, pictured. Picture: NDFP-23-03-21-WheatleyHillsLitter 6-NMSY
"More recently, we've done Doncaster Racecourse and the straight mile, which we did this week. We had started that previously, and wanted to go back and finish the job. Sometimes it can take more than one session, because we try to keep the sessions inside an hour and a half. Otherwise people start to get tired, and bored.
"We also did a session at Legacy Church before it re-opened, although I couldn't get to that one.
"I think things are slowing down a little now, because we've done the worst of the hot spots locally. Hopefully a lot of the work now will be maintenance, because we've already got rid of what I describe as the historical rubbish – the large accumulations that have gathered in some of these areas over the years.
"All the places will get bad again, but hopefully not as bad as they were before."
Jayne said the area that really inspired her to take action was Sandall Beat Lane, which runs between Armthorpe Road, near the Doncaster Knights rugby ground, towards Sandall Beat Woods. She also felt there was a layby there that was particularly bad.
"There was a lot of fly tipping around there too – that was bad," she said. "Sadly, we can't move that. But we did report it to the council and upload a picture for them. They don't always pick them up very quickly.
Jayne Johnson, Wheatley Hills Litter Pickers group Co-ordinator, pictured. Picture: NDFP-23-03-21-WheatleyHillsLitter 2-NMSY
"But when we do a litter pick, they usually pick up the bags of rubbish that we've collected quickly after we've notified them. The only times it's had to wait a couple of days is when we've done it at weekends.
"They're usually out within a couple of hours."
Most of the rubbish collected tends to be cans, glass bottles, and wrappers from sweets and ice creams.
When they have done work around areas such as Ogden Road and Shaw Lane, they have also found takeaway food containers. But Jayne believes part of the issue is a lack of litter bins, in areas where she believes a lot of people park up to ear while they are working 'on the road'.
"We have also done Heather Woods, at the top of Armthorpe Road. We also found the odd needle on that one, but not many. We don't pick them up, we take a picture and tell the council, because they have to be dealt with properly in a sharps bin."
She said they were looking at doing work outside Wheatley Hills next, if it can improve some of the borough's public open spaces, but it would be up to individual members of the group whether they took part.
Anyone who wants to join can contact the group through Instagram or the Next Door app.
Jayne is pleased to have found a part time job as well as her voluntary duties now.
She landed a position as one of the leisure assistants at the Yorkshire Wildlife Park, which recently re-opened after lockdown.
And what do her duties in her new job include? Litter picking!
In these confusing and worrying times, local journalism is more vital than ever. Thanks to everyone who helps us ask the questions that matter by taking out a subscription or buying a paper. We stand together. Liam Hoden, editor.