Grief left Doncaster mum in a dark place after tragic death of brother. Now running is helping save her
Doncaster mum Marie Moran was devasted when she lost her older brother.
Monday, 24th May 2021, 8:53 am
She and Mick, a 39-year-old gas engineer from Dunscroft, Doncaster had always been close since childhood, and that had never changed.
But Marie was shocked two years ago when she heard the brother she cared for so much had been found dead at home. He had tragically taken his own life.
She had seen him the previous evening, when they had met for a drink at Dunscroft Welfare, also known as The Main.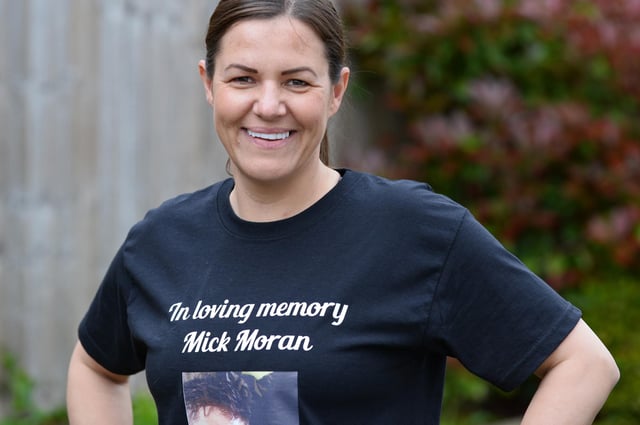 Marie Moran, pictured, is running a half marathon in memory of her brother. Picture: NDFP-21-05-21-Moran 1-NMSY
There had been no indication to anyone that anything was wrong.
Grief hit Marie hard, and she initially struggled to come to terms with her loss. But now she has turned to running to help her handle the emotional blow suffered by those who loved Mick – and now she is also using that to help others too.
She is running a half marathan to raise money for Doncaster Mind, a mental health charity that has campaigned to help reduce male suicide.
She said: "It's the second half marathon I've done, and I have arranged the route to set off from my home in Wheatley Hills, and finish at Mick's grave at Hatfield Cemetery.
Mick Moran with sister Marie
"The last time I ran one, Mick sent me a message on Facebook to tell me how proud he was.
"Running has saved me when I was in a dark place through grief. It takes me and puts me in a positive place."
She will run the half marathon on May 24, the second anniverary of the day they lost Mick.
She said: "I just think Mind is a charity that is close to us – it helps people.
Marie Moran, pictured, is running a half marathon in memory of her brother. Picture: NDFP-21-05-21-Moran 2-NMSY
"I want people to know that they are not alone, and that there are people you can talk to, and there are places you can go for help.
"It's not just about the person who dies, like Mick – its also about what they leave behind, the families. It feels like the pain will never go away."
"He was a well respected man, and it has hit people hard.
But Marie, who is aged 39, says she has been in a better place since getting involved with running at Danum Harriers. Last year she started cycling and running, and she believes that it has helped her to think differently, and she can now smile again when she thinks about Mick, the father of several children, who she described as a real family man.
Anyone wanting to sponsor Marie can log onto her funding website page by clicking here.
Doncaster Council launched campaign to reduce the number of male suicides across the borough in May 2019.
They revealed at the time that in 2017 alone, 33 people in Doncaster took their lives through suspected suicide. In the UK, men are three times more likely to take their own lives than women are.
The 'Another Way' campaign aimed to get the message across to men that there are avenues for them to seek support and that talking to somebody will help.
> When life is difficult, Samaritans are here – day or night, 365 days a year. You can call them for free on 116 123, email them at [email protected], or visit samaritans.org to find your nearest branch.
In these confusing and worrying times, local journalism is more vital than ever. Thanks to everyone who helps us ask the questions that matter by taking out a subscription or buying a paper. We stand together. Liam Hoden, editor.