Football loving teenager from Doncaster is helping to raise awareness for disabled players across the country
A 14 year old football player decided he wanted to raise awareness for disabled children and has now got the backing of FA to spread the message further.
Friday, 18th June 2021, 10:39 am
Bryan Kilpatrick Elliott has right sided Hemiplegia Cerebral Palsy which impacted his ability to play football until he found teams that accommodate his needs.
During lockdown the teenager from Kirk Sandall started to think about how other children may have struggled to play the game he loves.
His father Bryan Richard Elliott, said: "He really missed football during lockdown.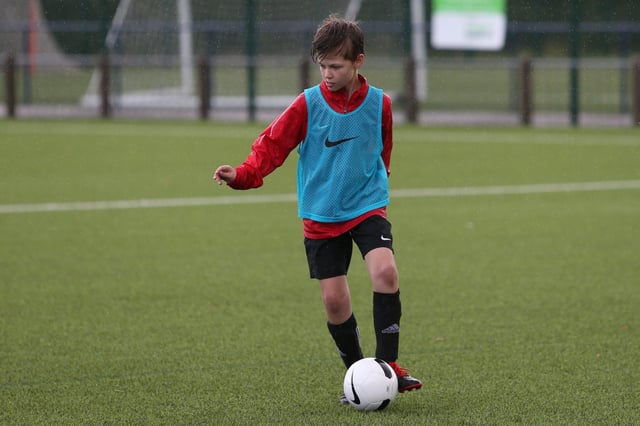 Bryan playing football.
"He didn't like not being able to see his team mates and motivation became a bit of a problem.
"But then he started filming these little clips about disability in football and putting them out on social media for others to see.
"Off the back of that the FA reached out to us."
Bryan filmed informational videos about disability in sport.
Bryan has now been selected by the New England football your way hub to help inspire and promote disability football.
It is an online tool which Bryan is now the proud poster boy of.
"Bryan has tried to access football since he was eight years old," he continued.
"He did join some local teams but his play time was always low.
Bryan wants other disabled children to feel seen.
"He has aspirations of playing for England in the Paralympics so now he plays for a team in Manchester.
"Bryan wants to show disabled kids that there is sport out there for them.
"We know that lockdown has presented lots of challenges for disabled children and many feel overlooked.
"He wants to make them feel seen."
According to his father Bryan has always had a get up and go attitude and has never let his Cerebral Palsy stop him from taking on massive challenges.
"His condition has never stopped him," he continued.
"It makes me very proud to achieve this huge achievement.
"It's been a wonderful journey to see him grow into the young man that he now is."
Bryan has played football in Holland, Dublin and even in St George's Park in his football career.
You can access the resources that Bryan has been part of creating here.
In these confusing and worrying times, local journalism is more vital than ever. Thanks to everyone who helps us ask the questions that matter by taking out a subscription or buying a paper. We stand together. Liam Hoden, editor.