Doncaster politicians and council pay tribute to Prince Philip following Duke of Edinburgh's death
Doncaster Council and borough politicians have paid tribute following the death of HRH Prince Philip, the Duke of Edinburgh.
By
George Torr, Local Democracy Reporter
Friday, 9th April 2021, 5:47 pm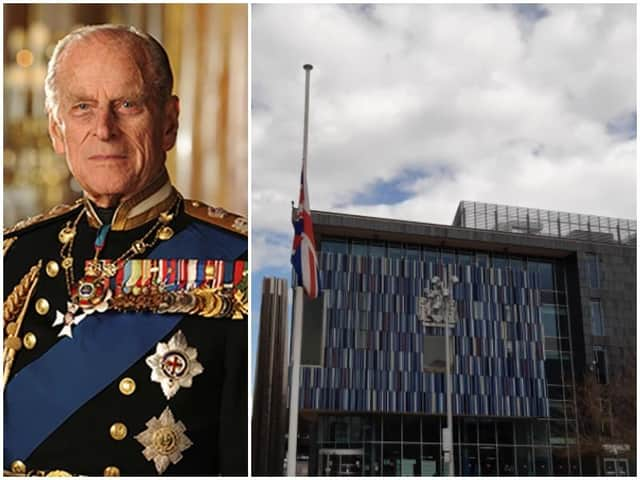 The Union flag in Sir Nigel Gresley Square flies at half mast following the death of the Duke of Edinburgh
Election campaigning for local elections next month has been suspended for many party candidates standing in the borough.
Both the national Labour and Conservative parties have instructed campaigning to stop until further notice.
Doncaster Council has lowered the flag on Sir Nigel Gresley Square and at Mansion House to half mast.
An online book of condolences has been set up where people can leave tributes on DMBC's website here: www.doncaster.gov.uk/messages-of-condolence
DMBC's civic mayor councillor Paul Wray, led the tributes to the Duke of Edinburgh on the council's behalf.
He said: "On behalf of Doncaster Council and the people of the borough, I express my deep sadness at the death of His Royal Highness Prince Philip, Duke of Edinburgh and I give my sincerest condolences to Her Majesty The Queen and the Royal Family at this time.
"The Union flag is now flying at half-mast at the Mansion House and Sir Nigel Gresley Square as a mark of respect."
Labour candidate for elected mayor of Doncaster, Ros Jones said: "My thoughts and prayers are with the Queen and members of the Royal Family on the sad loss of HRH Prince Philip, Duke of Edinburgh.
"He dedicated his life to public service, a very talented man and a real character."
Conservative mayoral candidate James Hart, added: "Deeply saddened by the news of the death of Prince Philip.
"He was such a great servant to the nation, devoted husband, father and grandfather. My thoughts are with his whole family and those who knew him closely."
Council bosses also urged members of the public not to gather in groups and lay flowers in public areas due to coronavirus restrictions.
*