Doncaster councillors call for peace at Palestine vigils
A series of vigils and rallies in Doncaster have seen councillors attend to call for a ceasefire in Gaza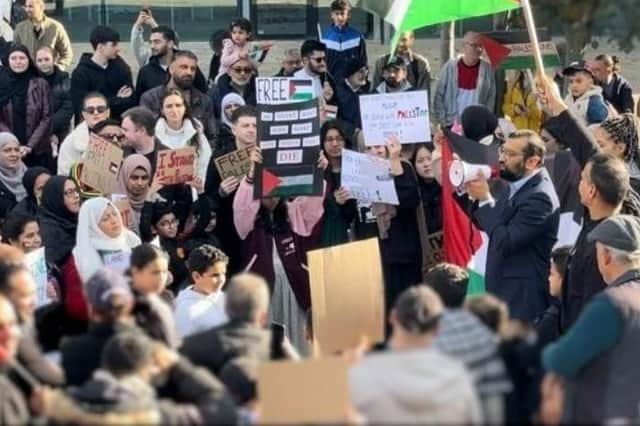 Four Doncaster councillors have attended peace vigils, rallies and marches over the past month and called for an end to violence in Gaza.
It comes after Israeli forces commenced extensive bombings across the Palestinian city in response to attacks by militant group Hamas.
Three events have taken place in Doncaster to call for a ceasefire, with one march through the city centre attended by around 500 people.
Each has centred around Sir Nigel Gresley square outside Doncaster Council's civic office.
People of all ages could be seen in attendance, with children playing football on the square.
Bessacarr councillor Majid Khan attended each event alongside signing letters addressed to the government and Labour leaders calling on them to support a ceasefire.
Councillors Dave Shaw and Gemma Cobby for the Town ward and Nigel Ball for the Conisbrough ward have also attended one or more events.
Speaking at a recent rally, Coun Khan said: "It has been a month now that we have been witnessing the bombardment of innocent children and families; schools, hospitals and churches in Gaza, 10000 Palestinians have been killed of which 4000 are children. We need to have our voices heard to ensure that this tragedy comes to an end.
"The road to peace and a free Palestine is long but what we need is a ceasefire. We will be on the right side of history. As we speak innocent children, women and families are being bombarded in Gaza and to make matters worse whilst the worlds attention is on Gaza in the West Bank Palestinians are being forcibly removed from villages that they have inhabited for thousands of years.
"The one university which Gaza had left has been bombed, the remaining hospital has been destroyed, women are going through C-sections without anaesthesia. The third oldest Church in the world has been bombed, a place which was a safe haven.
"Our Christian brothers and sisters who are here today, I urge you to speak with your congregations and Ministers and raise the tragedy that Christians are facing in Palestine as the Palestinian cause isn't one of Muslims and Jews; or Arabs or Palestinians it's a cause of humanity. We have Christians, Jews and Muslims who are dying."
Following the event, Coun Shaw wrote: "In a recent X (formally Twitter) post, António Guterres Secretary-General of the United Nations stated that there are 'clear violations of international humanitarian law that we are witnessing in the Middle East'.
"I cannot in all conscience know and see on a daily basis atrocities committed against innocent men women and children by the Israeli government, and not speak out and add my voice to all those other voices that call for an immediate ceasefire. It is beyond me that so many remain silent, they will find themselves standing on the wrong side of history."
*Gaza, is the smaller of the two Palestinian territories (the other being the West Bank). On the eastern coast of the Mediterranean Sea, Gaza is bordered by Egypt on the southwest and Israel on the east and north.