Doncaster carer Vicky Hogg reaches Devon as she struggles through blisters and heat to near end of 900 mile John of Groats to Lands End charity run
Superfit Doncaster carer Vicky Hogg has reached Devon as the nears the end of her giant 900 mile sponsored run from John O'Groats to Lands End.
Friday, 18th June 2021, 9:29 am
Today VIcky started day 26 out of 30 in her trek, which is raising money for Dementia UK, has has crossed over from Somerset to Devon.
She says she is enduring high temperatures, numerous painful blisters, a sore knee and even the break down of her support vehicle as she nears Lands' End.
But her Just Giving page has now passed £5,000.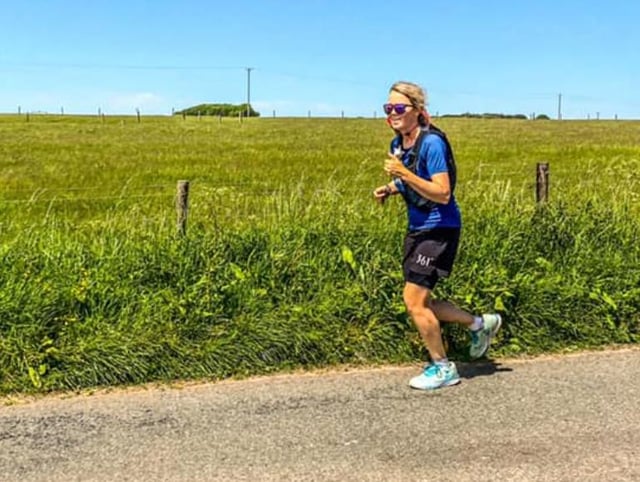 Vicky Hogg has reached Devon
Vicky works for Doncaster Council within the adult social care department, where she is a member of the STEPs team (Short Term Enablement Programme), helping people get back on their feet after hospital stays or illness.
As part of her role Vicky regularly visits clients living with Dementia and witnesses first-hand the devastating effect this horrible disease has on clients and their loved ones.
Vicky is a former Doncaster Belles footballer, who more recently played for Harworth Ladies, for whom she is now a physio.
In 2018 she and some friends cycled John O'Groats to Lands' End to raise money for the Sick Children's Trust. Last year in spite of the Covid pandemic she managed to fit in running coast to coast raising money for Dystonia.
She said last night that Thursday had been a tough day.
She added: "A massive thanks to all the people who have offered to pay for hotels.
"It's definitely easier in the hotels then camping, less faff when tired."
"We made it over the £5000 mark today. Unbelievable."
You can sponsor her on her by clicking here.
In these confusing and worrying times, local journalism is more vital than ever. Thanks to everyone who helps us ask the questions that matter by taking out a subscription or buying a paper. We stand together. Liam Hoden, editor.