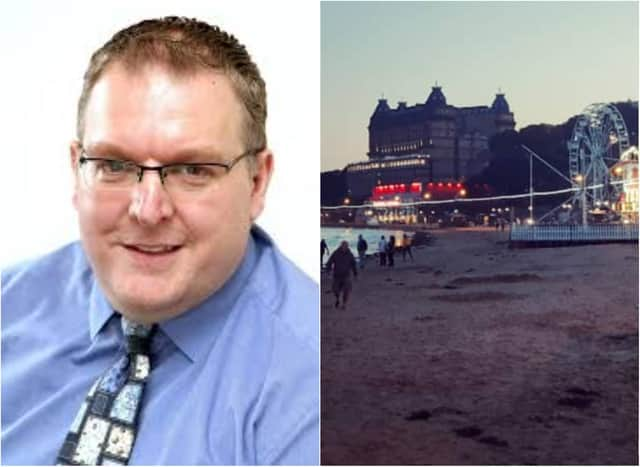 Darren Burke - a lifelong love affair with Scarborough.
I'm guessing that's going to be virtually no-one, with the jewel of the East Coast being so close and handy to Doncaster for seaside excursions.
Club trips, childhood days out, jaunts with the kids, let's face it, we've all been there, many of us countless times.
I'll freely admit that it's one of my favourite places. There's nothing to beat that sweep down the main road into the South Bay, gliding under the bridge and catching a glimpse of that beautiful vista and the sparkling sea.
The castle, standing proudly on the headland, the sweeping bays, the landmark lighthouse, the twinkling lights of the promenade, the sights, sounds and smells and shops and cafes that have been there for decades, never seeming to change.
I try and get over there at least once or twice a year and, despite this year's challenging conditions, I wanted to introduce my Italian partner to its delights.
Her only other visit was on a rain lashed and gloomy day with pals several years ago.
Fortunately, we were blessed with glorious sunshine – possibly the last good day of summer before the recent autumnal chills and wet weather swept in.
Our whistle stop tour, to mark our anniversary, took in the glorious architecture of the Spa, the stunning views from the cliffs above the South Bay, the rarely visited old town and its quaint cobbled streets, the harbour, normally bustling but quiet in Covid-19 times and of course, an ice cream along the Esplanade. Oh, and some fish and chips from the Fish Pan too (Winking Willy's was closed, if you were wondering).
We also managed to get up to the Castle, around into the North Bay on an open top bus, a quick stroll around the delightful Peasholm Park and even a trip on the old faithful North Bay Railway before rounding things off with a spin on the newly installed Big Wheel, on the site of the old Futurist theatre.
By the day's end, we were shattered, but I knew I'd found a new found Scarborough fan as Giulia happily browsed through her countless photos on the way home.