Hero Doncaster waiter, 16, saves young girl from choking to death on second day in job
A teenage hero Doncaster waiter came to the rescue and saved a young girl from choking to death – on just his second full time day in the job.
Monday, 7th June 2021, 2:30 pm
16-year-old Jack Smithson bravely came to the rescue when the youngster began choking on her breakfast at The Jazz Cafe in Doncaster town centre.
Hearing the screams of the young girl's grandma, Jack raced into action – and stayed ice cool to perform the Heimlich manoeuvre on the girl, thought to be about six or seven.
And Jack, who only started full time at the Printing Office Street venue last week, has now been rewarded by his bosses for his heroics.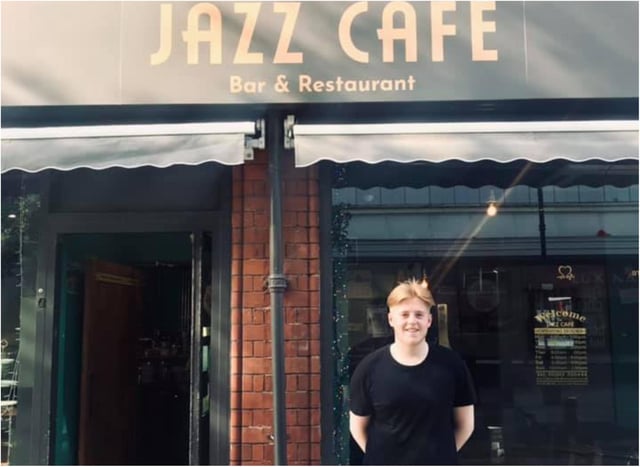 Jack Smithson came to the rescue when a young girl started choking at the Jazz Cafe.
Said Jack, who lives in Kirk Sandall: "I was pretty scared but I knew I had to stay cool and not panic.
"The grandma was crying and getting upset but I knew what I had to do."
Jack was working alone upstairs at the cafe when the drama unfolded – and put his first aid training from his time at Doncaster Sea Cadets to good use.
"The woman was putting her fingers down the girl's throat, trying to get the food out," he said, "but I told her not to do that as that could push it down further and make it even worse."
So Jack instead performed the Heimlich manoeuvre – a procedure which involves standing behind the choking person and then pressing against the bottom of the diaphragm with hands to force food out of the airway.
He said: "I think I had to do it about four times before she coughed it up. The girl was perfectly calm afterwards – she had a glass of water and was OK. The whole thing probably only took a minute and a half or so."
Jack and his mum Gemma Miall-Smithson have no idea of the name of the girl involved – but his bosses at the Jazz Cafe have rewarded him with a £25 Amazon voucher and named him employee of the month.
Said Gemma: "I'm immensely proud of him. He's saved a life by using the skills picked up at Sea Cadets. I couldn't be more proud for what he's done."