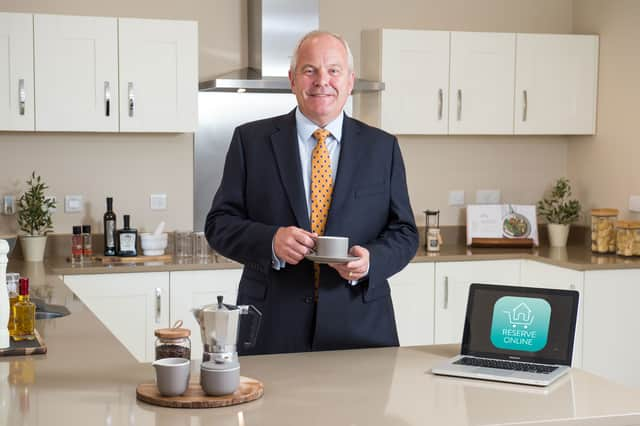 Miller Homes has become the first major UK housebuilder to provide customers with the option to reserve a property on its website following the launch of its new online reservation system.
The innovative new development means that homebuyers wishing to purchase a new home from Miller Homes can now reserve and pay a deposit on their chosen property via the housebuilder's website in a few simple steps at a time and place convenient for them.
And, just a matter of days after its launch, Miller Homes Yorkshire took its first reservations, with homes at Shires Grove in Boston Spa and Eyre View in Chesterfield secured online.
The online reservation system has been developed by Miller Homes' in-house team following the success of Fast Track, which helped expedite the initial stage of the buying process by providing the option to undertake credit checks online and register interest in specific homes. Almost 6% of all reservations have been made using this facility since its launch.
Anne Marie Britton, National Sales & Marketing Director for Miller Homes, said: "Online purchases make up 16.4% of retail sales in the UK* and we identified an opportunity within the housebuilding industry to provide buyers with the option to purchase their dream home in the same way.
"We understand that buying a new home is a major decision and in order to deliver the best customer experience we recognise the importance of providing access to our showhomes and the opportunity to discuss the purchase with an experienced and knowledgeable member of our team. However, we also believe our commitment to personal, first class customer service can be enhanced by providing homebuyers with greater options in how they consider and make their decision."
Chris Endsor, Chief Executive of Miller Homes, added: "We are very proud to be the first major UK housebuilder to develop an online reservation system for our customers. This will provide a great deal more flexibility for them, however we will continue to maintain our onsite presence and provide the excellent levels of service and customer care for which we are known."
Over the last 10 years, Miller Homes has invested significantly in developing a tailored CRM system using Salesforce software. The customer and lead management software is best in class and provides an efficient end-to-end system for recording the customer journey from lead management to post handover liaison.
Chris continued: "This latest development is part of our overall digital strategy to enhance the customer journey and become an even more efficient business whilst also underpinning the core values of our business philosophy, The Miller Difference, which puts the customer at the very heart of everything we do."
Miller Homes currently has ten developments located across Yorkshire featuring a range of 3, 4 and 5 bedroom homes. For further information, visit www.millerhomes.co.uk.
*Source: Retail Sales in Great Britain: August 2017, Office for National Statistics