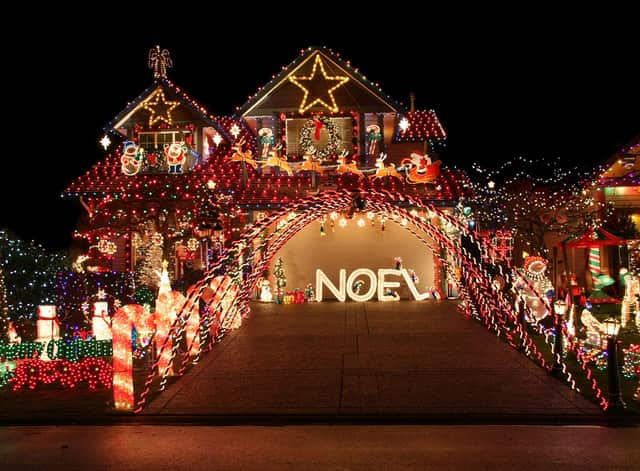 With almost five million Brits having already put up their Christmas decorations one leading organisation is urging the 5.4 million-plus residents in Yorkshire and Humber to stay safe over the festive period.
NICEIC, the UK's leading body for registered electricians, says many householders are often unaware of the extra dangers that can arise from plugging in additional Christmas décor around the home. Particularly as the nation's love affair with Christmas not only happens earlier, but is becoming increasingly elaborate.
Darren Staniforth, NICEIC's Technical Development Manager, comments: "The Christmas lights display is one of the best bits of Christmas. Many households really go to town in transforming their houses into multi-coloured festive extravaganzas each year. However, it's important not to get too carried away and to always put safety first. Otherwise homeowners could be putting their homes in jeopardy.
"Some householders will plug in far too many lights on one socket which can lead to overloading, while others many opt to re-wire their lights to include multiple sets which can pose a potential fire risk."
The nation's love affair with Christmas decorations means more and more homes are going the extra mile to add that extra bit of glamour. So, in addition to lights there are more Santa's, snowmen, reindeer and fake snow added to displays as neighbours across the country compete to have the best displays on show.
Much of this extra equipment requires an electrical supply to power it and Christmas is traditionally a time of year when fires caused by electrical issues are most likely to happen.
Darren added: "Of course, we all love to add that extra bit of sparkle and glamour at Christmas but it's important to remember that electrical safety is paramount and should come before anything else.
"It can be all too easy at Christmas time – when everyone is plugging in new gadgets, cooking the dinner and putting up lights to put an extra demand on the electrical system around the home and if you are not careful it can have dramatic consequences.
"Many will be unaware of the additional dangers that can arise, but we hope that with a bit of common sense and due care we can limit any Christmas catastrophes and that everyone can enjoy their time safely."
NICEIC offers the following top tips when dealing with electricity and Christmas lights to help homeowners keep safe during Christmas:After 12 months being stored away Christmas lights can easily get damaged. Check your Christmas lights thoroughly. Ensure they are not broken or damaged before use and look out for loose wires.
Use only replacement bulbs (lamps) of the same type and rating as those originally supplied
Switch lights off before you go to bed or go out. Do not be tempted to keep them on too long as they can overheat.
Keep lights away from flammable decorations and materials that can burn easily.
Avoid using too many extension leads or adapters.
Never attempt to repair lights by using tape or joining with another set of lights.
Check the wiring of the plug and make sure no bare wires are visible.
If using any outdoor lighting there are further tips to follow:
Only use outdoor lights that have been specifically designed to be used outdoors. If you are unsure check the manufacturers' instructions.
All outside sockets must be RCD protected for safety. AN RCD (residual current device) works by switching off the flow of electricity when a cable or flex is damaged.
Any fixed or permanent outside lighting should be installed by a registered electrician to ensure it complies with the appropriate safety standards.
It is never too late to ensure the electrical safety of your home before Christmas. If you are in any doubt about the state of the electrics then it is always best to seek a professional opinion.
You can search for a registered electrician in your area by visiting www.niceic.com