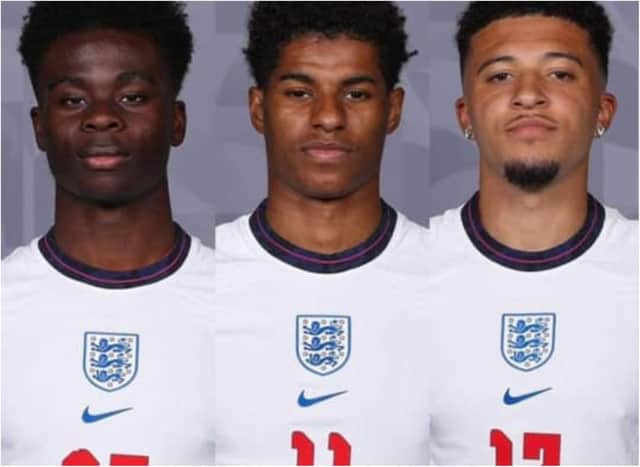 Bukayo Saka, Marcus Rashford and Jadon Sancho were targeted with racist abuse after missing penalties in the Euro 2020 final with Italy.
Marcus Rashford, Bukayo Saka and Jadon Sancho were all targeted with racist messages after they missed penalties in the Euro 2020 final.
South Yorkshire Police has said it stands alongside the trio and has urged members of the public to report incidents of racism on social media to them so action can be taken.
In a statement, a force spokesman said: "It's not the result any of us wanted, but we are still so proud of all the England players.
"We stand with the majority of the country in congratulating them on getting to the final and lifting the spirits of the nation.
"We are disgusted by some of the racist comments we have seen on social media and stand together on calling these people out.
"If you see it, report it so action can be taken. If you have been a victim of hate crime, please report it to us we will listen."
Meanwhile, England footballer Tyrone Mings has accused home secretary Priti Patel of pretending to be disgusted by racist abuse, after she previously described taking the knee as "gesture politics".
Mings said she had "stoked the fire" by refusing to criticise fans who booed the England team for taking the knee.
Speaking to GB News about the England players' protest in June, Home Secretary Priti Patel said she did not support "people participating in that type of gesture politics".
Asked if she would criticise fans who booed England players taking the knee she said: "That's a choice for them, quite frankly".
Writing on Twitter on Monday evening, Mings said: "You don't get to stoke the fire at the beginning of the tournament by labelling our anti-racism message as 'Gesture Politics' and then pretend to be disgusted when the very thing we're campaigning against, happens.".
Rashford apologised for the missed penalty in a statement posted on Twitter on Monday, but added: "I will never apologise for who I am and where I came from."