Man receives suspended prison sentence for denying medical treatment to his suffering dogs
A man has been sentenced to 24 weeks in custody, suspended for 12 months, and disqualified from keeping animals for 10 years, after pleading guilty to animal welfare offences.
Watch more of our videos on Shots! 
and live on Freeview channel 276
Visit Shots! now
Sam Hussain, aged 61, of Bridge Close, Airmyn, near Goole, was sentenced at Doncaster Magistrates Court on Monday, January 23, having pleaded guilty to causing unnecessary suffering to two dogs. This included failing to take them for veterinary treatment despite both having painful and obvious, long-standing medical conditions and not meeting one of the dogs needs.
As well as the suspended prison sentence and 10 year ban, Hussain was also ordered to pay £800 in costs (£400 for each dog) and £128 victim surcharge.
The court heard that when RSPCA officers visited Mr Hussain's premises in January 2022, they found two German Shepherd dogs (GSDs) being kept in filthy, hazardous and inadequate conditions, with the elderly male displaying signs of extreme discomfort when he moved.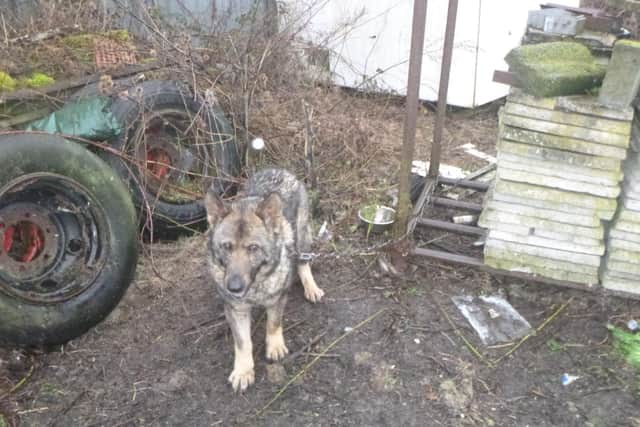 The owner agreed to immediately sign the male dog over to the RSPCA, but not the female dog, Tina. When Tyson was taken for a veterinary examination, he was sadly found to be suffering from an untreated and painful tumour along with other debilitating medical conditions. The vet subsequently made the difficult decision to prevent further suffering by putting Tyson to sleep.
Meanwhile, the owner had agreed to Improving conditions for Tina. But after several follow-up visits by the RSPCA to check on her, although a few changes had been made, conditions had not improved for Tina in any substantial way. In addition, when she was taken for a veterinary examination, she was also found to be suffering from an untreated and painful tumour - Hussain had failed to take her to a vet for treatment. Tina was eventually signed over to the RSPCA and the vet subsequently made the difficult decision to prevent further suffering by putting Tina to sleep.
RSPCA deputy chief inspector Claire Mitchell said: "It was this individual's legal responsibility to care for his dogs and he failed to do this. There was no excuse for not providing those two poor dogs with their basic needs and failing to seek veterinary care for them when it was abundantly clear that they so desperately needed it.
"These were tragic cases and simply shouldn't have happened. The RSPCA urges anyone struggling to take care of their pet to ask for help, rather than neglecting them and leaving them to suffer."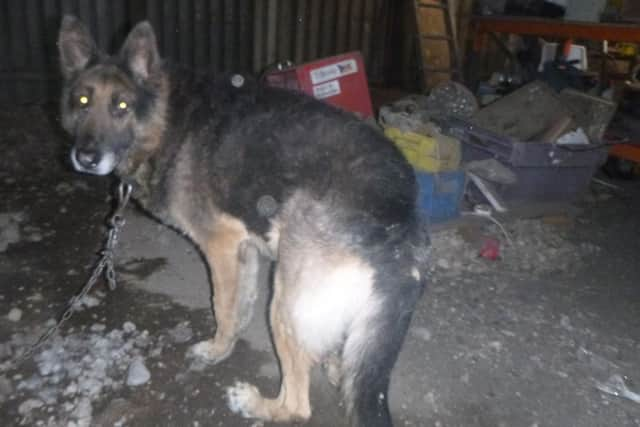 During a visit to the defendant's premises, Tyson, an elderly-looking black and tan male GSD was found in a dilapidated outbuilding with no doors, filled with old machinery, tools, cars and scrap.
He was inappropriately tethered to a metal pillar with a chain and was curled up in a ball on a pile of rubble, barely moving. There was a large amount of old, mouldy faeces present all across the ground.
The visiting RSPCA officer reported that Tyson stood up very slowly, and appeared wobbly and stiff. As he walked, it was clear he was in discomfort. There were 2 buckets within his reach, one upturned and empty, the other containing no water either.
An old battered food bowl propped up against the wall was also empty. Nowhere within this outbuilding was there any bedding or soft surface for him to lie on so he was having to curl himself up on the rocky ground amongst his own faecal matter.
On the same premises, RSPCA officers found that 'Tina', a black and tan female GSD had a thick matted coat and was very smelly. She was losing lots of hair but the hair on her back was matted and clumped. She was inappropriately tethered with a heavy chain and had only a 7ft circular area to walk in, which contained several bits of machinery while the ground was muddy and wet.
The only food was some old dog biscuits on the ground that had soaked up moisture so they resembled a 'pile of vomit'. The only water contained green algae, and a structure used as her kennel was completely open to the elements and had no bedding so the dog had to lay directly on a dirty wooden plank.
Inspector Mitchell added: "In my opinion both dogs were living in bare, desolate conditions which were wholly inappropriate for them, especially taking into consideration their age."
The vet who examined 13 year-old Tyson found that the elderly dog was suffering from severe arthritis of multiple joints and lacked control of his hind limbs. On examination of his abdomen it was evident that there was a large mass - a tumour - present, and this was painful to the touch. He was suffering and would have required a large operation, which was deemed unacceptable. The vet concluded that taking all the presenting clinical signs into consideration, sadly, the kindest option was to euthanase him.
A veterinary examination of Tina revealed she was in relatively poor condition and underweight, had painful hips and a foul smelling discharge with a large firm and painful swelling in the area of her perineum. Samples taken confirmed that a tumour was growing within the wall of the vulva and the perineum. It was not amenable to surgery and was causing pain and discomfort. In the vet's opinion there was little prospect of significant improvement in Tina's condition and so the vet decided that to prevent further suffering, she should be put to sleep.
The vet commented that a reasonable owner would have noticed Tina's poor body condition and infected mass and sought veterinary attention earlier.