Chance to bag 2-night UK staycation for 4 people for £1.50 – the price of Ginsters bake
This May, Ginsters is giving Brits the chance to bag a 2-night UK staycation for up to four people for just £1.50 – the price of a Ginsters Bake after one in three Brits admit to not making any plans or going away this bank holiday because they can't afford to.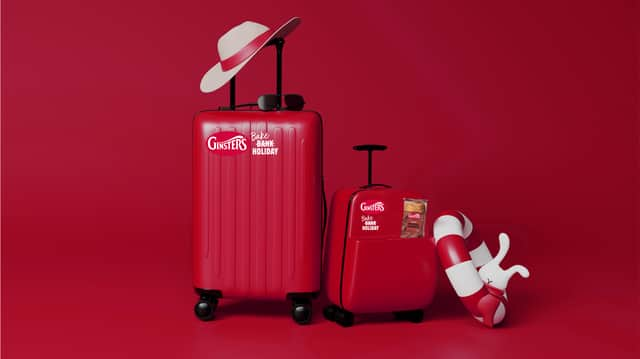 What's more, the UK destinations available are doppelgangers for the international destinations that inspired the much-loved Bakes pastry range from Ginsters, including Philly Cheese Steak, Cajun Chicken, Mac and Cheese and Meatball Marinara.
Brits will get the chance to submit their details to the dedicated 'Bake Holiday' page on the Ginsters website to be in with the chance of bagging a £1.50 Bake Holiday to either the 'Italian Riviera' (Portmeirion in Wales), 'Philadelphia' (London), 'New Orleans' (Brighton) or 'Washington DC' (Edinburgh), all selected for their likeness to the real thing by a Hollywood film and TV location scout, who has worked on films like Layer Cake and Molly's Game.
Sarah Babb from Ginsters said: "We're all feeling the pinch at the moment, and on top of that, recent events, like the 14-hour queues at Dover affecting holidaymakers, are not helping to lift our mood. Our Bakes range is made in Britain, but with globally inspired flavours, so we thought we'd extend the metaphor and inject a little fun into the Bank Holidays this May by matching the flavours in our range to UK holiday destinations that you can stay at for the price of a Ginsters Bake!"
THE GINSTERS 'BAKE HOLIDAY' DESTINATIONS
Entries open from Friday 29 th  April 2023 – Monday 1 st  May 2023
Italian Riviera = Portmeirion, Wales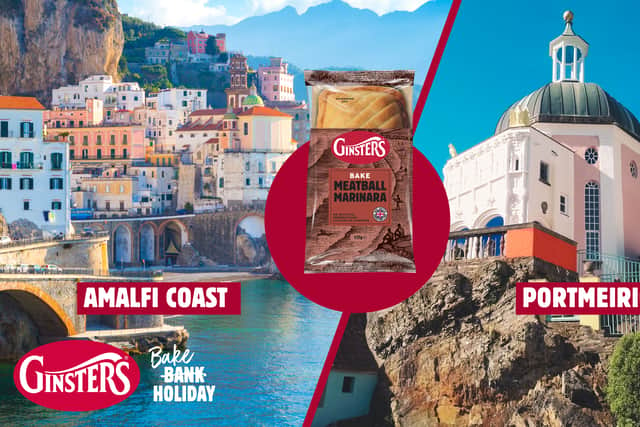 Inspired by flavoursome Italian cuisine, the Ginsters Meatball Marinara Bake is made with Italian-style British pork and beef meatballs with pockets of creamy melted mozzarella in a rich tomato sauce with onion, red pepper and slow roast tomato, all wrapped in light golden puff pastry. If jetting off to the continent this summer to enjoy a delicious bowl of pasta in the riviera sun is going to break the bank, Ginsters is offering a £1.50 two-night stay to the small village of Portmeirion in Wales. Handpicked for your holiday, thanks to its unique riviera-esque look and coastal location, this beauty spot has all the charm of a quaint Italian village, without having to go through customs.
Location scout, Luke Jackson said: "Portmeirion is one of the most remarkable things to find in Wales and is a moment of pure genus (or folly)! Harking back to the Italian Riviera it sits on a cliffside overlooking Cardigan Bay to its south. Rumoured to be based on Portofino, it is breath-taking to find such a gem on our doorstep in Wales. It, like the Italian Riviera, has been featured in numerous filming productions, most notably Prisoner."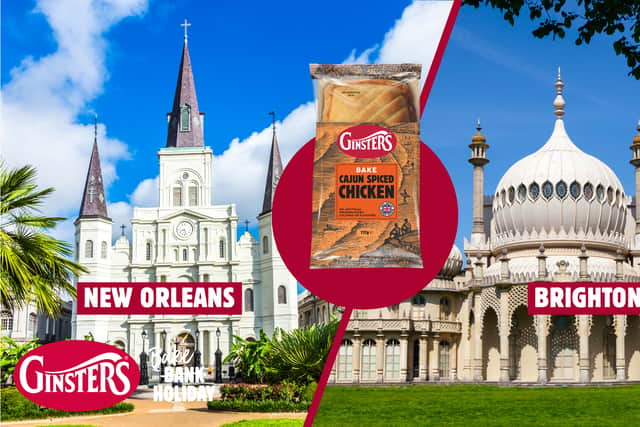 Bursting with flavour, just like its inspiration of New Orleans, the Ginsters Cajun Spiced Chicken Bake is made with 100% British Chicken cooked in a Cajun style spiced tomato sauce, with green pepper, black beans and West Country Mature Cheddar and a hint of wholegrain mustard. This party of flavours is then wrapped in a deliciously light golden puff pastry. Just like New Orleans, the UK's own Brighton brings its own sense of party to the British coastline, with Brighton Pride an iconic summer moment, just like New Orleans' Mardi Gras. Why not leave the passport behind and instead enjoy the fiesta of flavours closer to home.
Luke Jackson said: "Both cities have a very strong cultural identity that each is passionate about; New Orleans has a deep history in music, specifically Jazz, and Brighton has a vibrant young culture, including LGBTQ+. They are geographically similar being on the south coast, colourful, and have some Victorian elements and architecture. They both share unique status when the Mardi Gras and Brighton Pride come to town and an influx of visitors come to enjoy the festivities. Brighton has also served as an iconic set for film and TV in its time, with blockbusters such as Quadrophenia being filmed there and even a brief cameo in the 2023 Oscar-winning Best Picture, Everything Everywhere All At Once."
Entries open from Friday 26th May 2023 to Monday 29th May 2023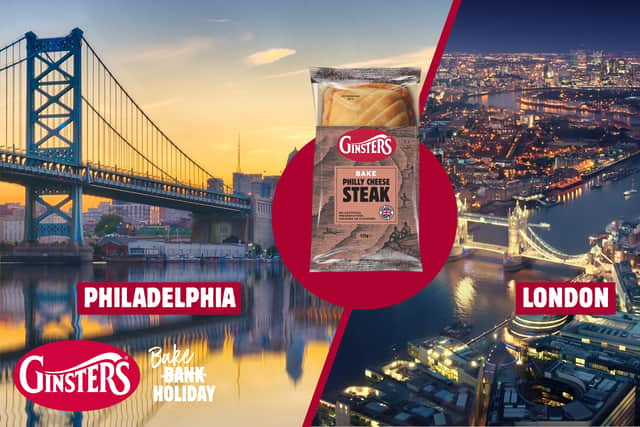 Transporting tastebuds to Philadelphia USA, the Ginsters Philly Cheese Steak Bake is a classic, delicious recipe of 100% British beef cooked in a rich sauce with mozzarella, mature cheddar and creamy full-fat soft cheese, onion, red and green peppers, and mushroom – all wrapped in a deliciously light golden puff pastry. Where better to enjoy a Ginsters Philly Cheese Steak Bake than the UK's answer to the largest city in the Commonwealth of Pennsylvania: London. With both cities boasting a great amount of history and a mixture of old and new architecture, swap Independence National Historical Park for Hyde Park and save the transatlantic flight this Spring.
Luke Jackson said: "Both London and Philadelphia are key cities sitting on the east in their respective countries, and are key players in contemporary influence, including history, business, industry, culture, sports, and music. They truly have multicultural and diverse populations from all parts of the world. I find the night skylines of Canary Wharf and the Philly CBD remarkably similar, and both are currently experiencing a revolution in the cafe culture and cuisine."
Washington DC = Edinburgh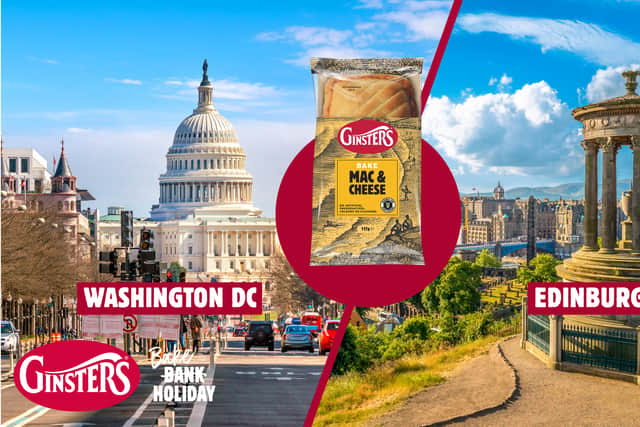 Taking on traditional American flavours but with a British twist, the award-winning* Ginsters Mac and Cheese Bake combines macaroni pasta in a creamy West Country Vintage Reserve and mature cheddar cheese sauce, with a hint of mustard, chives, and black pepper for added measure – all wrapped in a deliciously light golden puff pastry. Speaking of British twists, Edinburgh has its own unique charm, boasting fantastic skyline views and bursting with local culture, just like Washington DC. It was, after all, Washington DC where mac and cheese was made famous in the USA, as Thomas Jefferson served it in the White House when he was president. Where better to enjoy a Ginsters Mac and Cheese Bake than our UK version, Edinburgh, and with no bag-check required.
Luke Jackson said: "Both these cities are capitals of their respective countries and have striking skylines and impressive architecture. Both share prominent new-classical architecture, have diverse multiracial populations and strong economies. There also happens to be a Capitol Hill and a Carlton Hill, where you will find some of the best views of each city. Views which have played a part in many famous films: Trainspotting, Fast & Furious 9 and Avengers Infinity War to name a few."
Entrants looking to sign up for the chance to bag a Bake Holiday for just £1.50 should visit https://www.ginsters.co.uk/bakeholiday and enter their details from 00:01 BST Friday 29th April 2023 – 11.59 BST on Monday 1st May 2023 to bag a stay in Portmeirion or London, or from 00:01 BST Friday 26th May 2023 – 11:59 BST on Monday 29th May 2023 for stays in Brighton and Edinburgh (destinations and winners will be picked at random and announced the following Tuesday. Holidays must be claimed before the end of the year. All proceeds will be donated to Project 35 (Ginsters community project in partnership with Plymouth Argyle FC & Argyle Community Trust)). See website for full terms and conditions.