In The Saddle with Anita Marsh: Equine life can be an expensive one!
Since we've hit November, it's time to bring our horses in at night to ensure we save the grass from resembling something like the fields in Glastonbury.
Watch more of our videos on Shots! 
and live on Freeview channel 276
Visit Shots! now
We are lucky in that it's sandy land where we live, so it drains very well, but with all the rain recently even ours looks like a lake for a week or so.
I love my horses living out 24/7.
It's much healthier for them to keep moving about in a band together.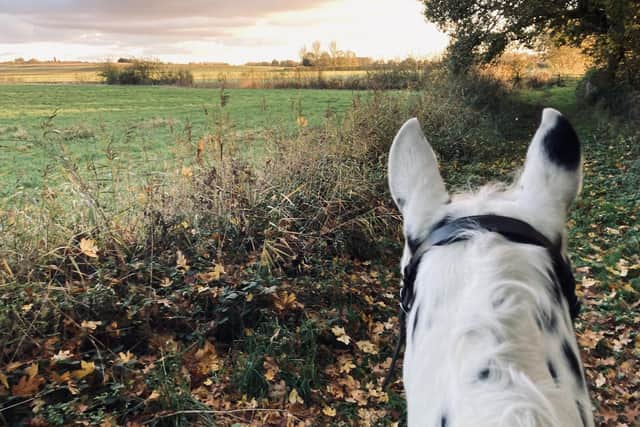 Especially my older two mares who are both now classed as veterans - Mara is 20 and April is 18. I still can't believe I have a couple of older horses.
Sully, is my young horse age 7 and he is a lot more biddable when living out. He's full of character and can be quite spicy.
This way it helps keep his energy focussed on work rather than making up his own mischief.
Overall, they are all so much happier and nicer to ride living out, but it's not always possible. Not everyone can do this.
Of course, this also means that my horses have bags of excess energy and also their upkeep in terms of time and expense increases.
Suddenly, you've gone from free living on the grass to having to buy shavings for their bedding and also haylage for their nets at night.
The time in mucking out and haylage stuffing seems to disappear into a black hole and I'm not in livery so I'm out there on my own - not even chatting to other horse owners.
We don't increase any hard feed so that bill stays the same luckily, but it really does make a huge difference to the finances bedding down three horses over winter.
There are probably cheaper ways to keep them on straw, but I can't cope with the allergies, so I prefer to stick to my shavings. I'm not really one for liking change.
I know there are many other types of bedding out there which you add water to but I kind of like what I like. They seem too much of a faff to me and getting deliveries down our dirt track rules out most lorries.
So at a time when energy bills and mortgage increases are at an all time high, it's certainly not cheap to keep horses. Feed bills have increased, bedding prices gone up and I've no idea about livery prices but I bet they have too.
I see lots of friends on social media zipping off on holidays, or having spa days or going off to the gym.
My gym is outside my back door lobbing bales of shavings around or mucking out and shoving the wheelbarrow up the muck-heap ramp without landing on my backside.
You've never seen such resistance training trying as the equestrian who pushes a full wheelbarrow across a rutted, soggy field.
My cruise and lovely beach holidays are in the paddock eating grass without a care in the world.
People think you're rich with horses, actually non-equestrians don't fully realise what we give up in order to enjoy our horses.
That also includes lie ins on a morning. They go out the window too unless you're the lucky few who are on full livery where someone else turns your horses out for you and dies the day to day care.
It's probably much safer to be into shoes and handbags, but where would the adrenaline-junkie-exhilaration come from in that? I'd much prefer working out around my horse duties than a gym. I'm out in the fresh air and nature too.
So, as the darker nights are now here and we are feeling the crispness in the air - I'm saying a big 'you've got this!' to all equestrians out there as winter approaches.
Hang in there. It won't be long until we are in our summer loving season again with cheap living.
Maybe then we can buy our shoes and handbags?
Thank you for following In The Saddle - Anita Marsh. You can find me on Facebook and follow my trials and tribulations with my three beautiful horses.