In The Saddle column: Boy, is it good to be back competing again after Covid!
We've kick started off competing recently following months of closures in the equestrian world due to Covid-19 pandemic and boy did it feel great to be back.
Watch more of our videos on Shots! 
and live on Freeview channel 276
Visit Shots! now
We decided to go to one of our favourite venues which is quite a trek for us of nearly an hour but thoroughly worth it. We love Port Royal Equestrian Centre. It's a well organised, smart looking and friendly place.
We haven't been since my daughter did their showing days with her first pony, so it was first for us to try out showjumping there.
I was a little worried about how it would work with the pandemic but all my fears were allayed the moment we arrived.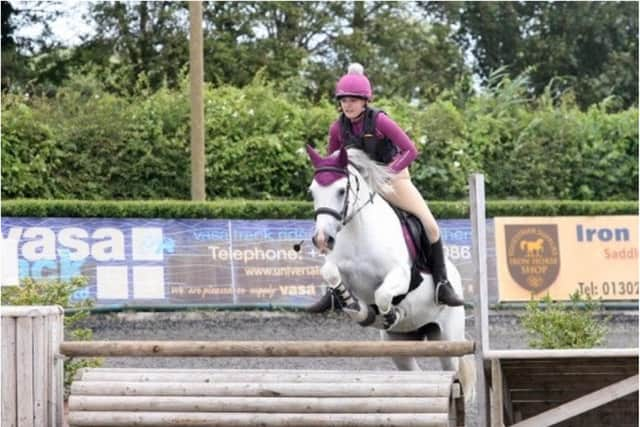 It was super organised with individual times for the warm up ring and times for each class, plus hand sanitizer available with a one way system round the take away cafe.
We had taken our daughter and her pony, Mara, and they were competing in their highest classes. She was entered in the 65, 70 and 80 class. The highest she's jumped in a completion was the year before coming 6th in a 65cm class at Epworth Show.
The show ring was beautiful with a great variety of fences to challenge the horse and rider, with spooky fillers and double fences. We had no idea how Mara would react as we only have plain poles at home, but I told Lissy to just go in and have fun. If she didn't want to jump the 80cm class it didn't matter.
The manager there was a lady called Michelle, who was very organised ensuring individuals only entered the warm up ring when it was their 'time' to do so. This kept it to a maximum of five warming up. Families or friends watching were very respectful of staying two metres apart.
It was a lovely day and Mara was jumping well. She's such a good pony who has come from Essex where she did all of pony club activities, dressage, show jumping, cross country and hunting. Although she can be forward, she's never unsafe and looks after her rider.
After warming up Alyssia and Mara went into the ring. It's always a worry as a parent seeing your little 11 year old go around a course. Although I had said for her to go steady she went in there and jumped fast.
My husband filmed her and I tried to take photos with my iPhone, which was fairly rubbish. Luckily there was a professional photographer there to capture the moment.
They are a family run business called Jump For It, who have over forty years of equine experience in breeding and competition to international level, as well as photography. A lot of their work appears in Horse and Hound too, so I knew they would take some good photos of my girl.
We had a brilliant day with Alyssia in the ribbons for all her classes coming third in the 65cm, first in the 70cm and first in the 80cm. We couldn't believe it. Every class double clear too.
We enjoyed it that much we went back again to show jump, where they were placed in every class and then went on to do their first ever show cross event too - which is a mixture of cross country fences and show jumps set in the arena. They had huge success and again were placed in every class.
It's been fantastic for Alyssia's confidence. I think the pair of them are really coming together now as you can see from the super shot Jump For It captured.
I hope this is the return of competitions. If everyone acts wisely when out then we could all be enjoying our horses once again. Let's face it, in this global nightmare we need something to hang onto and keep us all from going crazy. Have fun wherever you are and stay safe.