Councillors criticise resubmission of planning application for rejected Rose Hill housing estate
Councillors have spoken out after a rejected planning application has been resubmitted for consideration with minimal changes.
Watch more of our videos on Shots! 
and live on Freeview channel 276
Visit Shots! now
In March, an application by Miller Homes for 121 homes on Bessacarr's popular biodiversity spot Rose Hill Rise was rejected by Doncaster Council's planning committee.
The application had garnered extensive public opposition, with the formation of the Rose Hill Residents Association (RHRA) in protest.
The council's planning officers however recommended councillors to approve the application, with features such as 34 per cent open space and extensive planting deeming it to be within the council's Local Plan.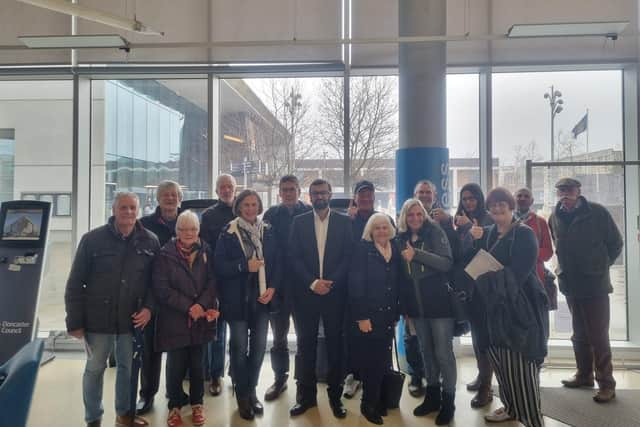 Now, Miller Homes has resubmitted the application for consideration with elements such as new part L building regulations to meet efficiency standards, and updated highway and ecology reports.
At the same time, it awaits an appeal decision from government on the first application's rejection.
Bessacarr councillors, who spoke in opposition of the original application, have criticised the decision.
Councillor Nick Allen said: "This seems like a very strange tactic from Miller Homes. I do not understand why they can't just accept the result of the planning committee meeting from March this year. The new proposal has not included substantive changes at all. It doesn't take into account the environment in a meaningful way.
"Residents are clearly going to be confused by this new proposal and, as a Conservative councillor for Bessacarr ward, I will continue to oppose any development on that site. It is vital green space and it should be kept that way.
"The sale of the site will not actually help make Doncaster Council make any money. This is just going to waste council worker time and, therefore, taxpayer money.
"As I said in the planning meeting in March the field is not accessible and the building work would cause an awful lot of noise nuisance.
"There are plenty of other sites around Doncaster. Why can't they attempt to buy one of those?"
Coun Laura Bluff added: "I'm disappointed in Miller Homes for both appealing and resubmitting plans for developing on Rose Hill field. Clearly the views of the public and the local councillors means nothing to them. By both appealing and resubmitting, they are going to be using valuable resources at DMBC to deal with both and that will cost the taxpayers.
"Adding in additional 'green' initiatives doesn't detract from the loss of such a valuable and well loved, biodiverse area. Nothing has been mentioned about addressing the issues of a lack of primary school places or the increased strain on the already struggling doctors and dentists, that I brought up during the original planning hearing. 30 'potential' new jobs and a grant to the local secondary school just doesn't cut it, the local area will lose far more that it stands to gain if this development goes ahead."
Coun Majid Khan concluded: "Doncaster residents gave a clear message to Miller Homes – Rose Hill is not for development. I am deeply disappointed that Miller Homes are now asking the Government's Planning Inspectorate to overturn this correct and lawful decision made by the planning committee.
"I urge the Government to side with Doncaster residents rather than big developers and refuse the appeal. I will continue to support the Rose Hill residents and fight against development on Rose Hill."
On the announcement of the application's resubmission, a spokesperson for Miller Homes said: "We feel that these plans will provide high-quality new homes for a range of local people, and also offer a significant amount of affordable homes, which are needed in Doncaster. The principle of housing on this site was established through the adoption of the council's Local Plan, which allocated the site for residential development.
"The previous planning application had no objections from statutory consultees who scrutinised all relevant issues and it was recommended for approval by council officers. Because of this we have also decided to appeal the original planning application, but we are hopeful that the new application will be successful."