Beautifully sharp knife sets to make your kitchen look glam and preparing food easier from Viners
Beautifully sharp knife sets to make your kitchen look glam and make preparing food easier are available from Viners, with many at fantastic sale prices.
Watch more of our videos on Shots! 
and live on Freeview channel 276
Visit Shots! now
I got to try out the Multi Store 9pce Knife Block Set + Sharpener, which usually retails at £85 but which is now on sale for just £60.
The set consists of: 1 x 8"/20cm Chef's Knife1 x 8"/20cm Carving Knife1 x 8"/20cm Bread Knife1 x 5"/12.5cm Utility Knife1 x 3.5"/9cm Paring Knife1 x 8" Scissors1 x Knife Sharpener2 x Chopping BoardsAll knives feature soft touch handles, for optimum grip and a pair of 8" scissors, which are suitable for a variety of food preparation tasks.The base of the block houses two durable, polypropylene non–slip chopping boards, which will withstand regular vigorous chopping. You can remove the boards and transform this space into an iPad or phone holder, ideal to use when reading a recipe.The added feature of a built in knife sharpener, allows you to regularly sharpen knives before use.The set comes with a 10 year guarantee.
How to properly care for your kitchen knives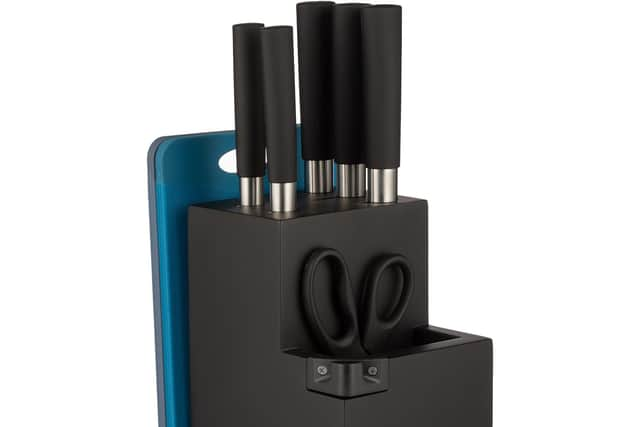 Kitchen knives are an investment. No matter how proficient you are with your knife skills, you'll want your knives to withstand regular use and serve their purpose for years to come.
If you really want to get the maximum mileage from your knives, you need to know a little bit about how best to care for them. A quick wash just won't cut it!
Diana Halim, Brand Marketing Manager at Viners shares her top tips to ensure your knives will stand the test of time – slicing, dicing and gliding through foods as effortlessly as the day you bought them.
"A surprisingly common reason for damaged knives is over sharpening. If you sharpen too hard or too frequently, it can grind the edge of the blade down and make it dull. Sharpen little and often to keep your knife in the best condition. A couple of swipes with a steel rod sharpener should do the trick."
Use the right knife for the task
"There's a reason why knife sets offer a variety of blades. Use a knife suitable for the task and the food you are cutting, this way you won't end up with a blunt or damaged
knife. For example, cut meat with a Chef's knife as the wide, weighted blade can easily tackle stubborn raw chicken and steak. Use a Santoku knife for fish, as the dimpled blade ensures thinly sliced cuts don't stick to the blade. Use a paring or utility knife for preparing smaller fruit and vegetables and a Chef's knife for larger foods such as melon or turnip."
"To minimize any impact on the cutting blade, always cut on a stable, non-slip surface. I highly recommend investing in a good quality wooden chopping board if you don't already have one. This should absorb some of the impact when cutting awkward or tough foods – and never cut directly onto the worktop."
"It's a good idea to avoid leaving acidic foods such as fruit juices on a knife blade after use as this may cause discolouration. Should the blade start to show signs of staining, you can carefully remove it with a stainless steel cleaner. Just be sure to clean it well afterwards!
"Finally, when it comes to cleaning your knives, don't leave them to soak in the sink. Instead, hand wash each knife individually using warm, soapy water and dry it thoroughly. Also, wash, dry and store your knives separately to avoid scratching the blades."
With over 110 years of cutlery and knife experience, Viners is a distinguished and much-loved British brand, found in many kitchens across the country. For more information on Viners, its products and the brand's history, please visit www.viners.co.uk