Lively new care home, Ivy Court, opens in Doncaster
With more than 30 years of experience, the manager of the new Ivy Court care home can answer all your questions about choosing the right setting for you or a loved one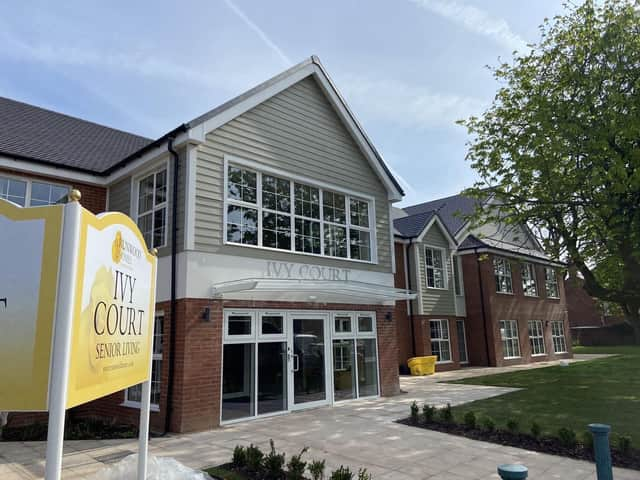 Expect a friendly welcome and great days out whether you are staying for a short break or moving in to your new home
Ivy Court, operated by Runwood Homes Senior Living, officially started welcoming residents in April, and has had a successful opening since.
Ivy Court care home is set over two spacious floors, presenting premium facilities and features, including a hairdressing salon, bar area, cinema room and 70 fully furnished bedrooms. All bedrooms have large private wet room en-suites, as well as a flat-screen TV and Wi-Fi, as comfortable seating, and a spacious desk to sit at. These amenities, along with luxury designs, provide residents with a comfortable and welcoming care home environment in which to live.
Since opening its doors in April, residents have been able to settle in smoothly and seamlessly into life at Ivy Court, getting to know one another and familiarising themselves with their new environment.
The hugely experienced team can answer all your questions to help you choose the right place for your loved one
At Ivy Court care home, health and wellbeing is a top priority. Their friendly and professional team offers different types of care to meet a variety of needs, including residential care, dementia care and respite care or short stay care breaks.
With a friendly Home Manager local to Doncaster, Kathleen George, who is vastly experienced in residential care and dementia care, and an experienced, highly trained care team, residents living at Ivy Court care home receive quality, compassionate care, and a professional, person-centred service.
Ivy Court care home is nestled in the village of Balby, Doncaster, and residents can enjoy the multitude of opportunities that Doncaster has to offer with exciting day excursions out.
Whether that's a trip to Doncaster Museum and Art Gallery, a short walk to St John's Church, or enjoying beautiful views at Potteric Carr Nature Reserve, getting to know the community in which residents live or visiting places residents would have once frequented in past days is a great activity which aids familiarity and belonging, especially important for residents living with dementia.
Some examples of activities taking place at Ivy Court care home include holding regular music and singing sessions, making, and baking, tea parties, games and quizzes, special events and regular clubs and day outings. For those living with dementia, these activities have a profound impact on improving mood and connection and boosting creativity and imagination.
Kathleen George, Home Manager at Ivy Court, said: "I am thrilled to welcome new residents to Ivy Court. I have over 30 years of experience in residential and dementia care. I look forward to offering residents a charming lifestyle, an engaging environment with a variety of activities, events, and celebrations to get involved in, and opportunities to find and form new friendships, all within a luxury environment that Ivy Court is proud to provide."
Runwood Homes understands that choosing a care home in Doncaster can be a delicate experience and are dedicated to supporting care seekers in their search for the perfect care home.
If you or your loved one would like a more information about Ivy Court, or a personalised tour, please contact our friendly Customer Relations Manager, Claire Hoyles, on 01302 578127 or [email protected], or visit the website.