The Challenge is on – can your 10-year old drive a car better than you?
The search is on for Britain's best young driver – but the catch is they must not legally be able to drive on the road.
Tuesday, 8th June 2021, 4:16 pm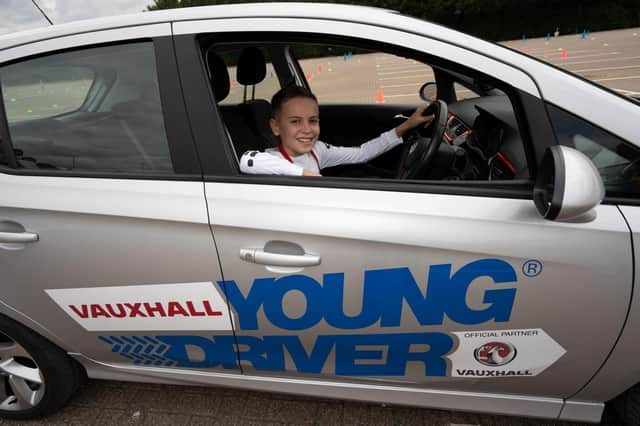 Josh Burford, 12, was the winner of the 10-13 years category in 2019
Entries for the Young Driver Challenge 2021 are now open and the hunt has begun to find the 40 best young drivers in the UK, who must be aged from 10 to 17 years old, to compete in a national final.Organised by the UK's largest pre-17 driving school, Young Driver, this year marks the seventh time the Challenge has taken place. The final, hosted by motoring expert and former presenter of Top Gear and Fifth Gear Quentin Willson will take place on Saturday, October, 2 2021 at the British Motor Museum in Warwickshire. Finalists will be split into two categories, 10 to 13s and 14 to 16s, before taking part in a number of driving challenges.Under 17s can enter at any of Young Driver's 70 UK venues until August 16. Young Driver operates at venues across Yorkshire including Barnsley, Sheffield, Beverley, Church Fenton, Doncaster and Elvington Airfield at York. The company has delivered more than 900,000 lessons to 10-17 year olds over the last 12 years, with the aim of creating a safer generation of young drivers. Lessons take place in a brand new, dual-controlled Vauxhall Corsa with a fully qualified driving instructor and follow a similar pattern to those taken on the road at 17. However, because they take place on specially created road systems on private property, learners can start at an earlier age.During the course of a lesson anyone wanting to enter the Challenge will be scored on a number of essential driving skills. These include:
Confident moving off and stopping – including clutch control, use of mirrors and signals.
Effective use of gears and smooth gear changes.
Safely tackling junctions, including roundabouts.
Handling a steering slalom – including control and road positioning.
Manoeuvres including a forward or reverse bay park or a parallel park.The winner of the Challenge will receive £200 and Young Driver lessons worth £750, whilst other prizes up for grabs include family restaurant vouchers and signed copies of Quentin Willson's latest book – 'Learn to Drive Without Tears and Tantrums'.Quentin Willson said: "Even after seven years of Young Driver Challenges I'm still amazed at the dedication, skill, ability and sheer pluck of our Young Driver Challenge competitors. Some could put adult drivers with twenty years' experience to shame - really. I'm proud to be judging again and look forward to meeting more driving stars this year."Sue Waterfield, head of marketing at Young Driver, said: "We're delighted to be launching the Young Driver Challenge 2021 – we really missed the event last year which had to be cancelled due to the pandemic. Our drivers take the responsibility of being behind the wheel very seriously and safety is always our number one priority – but we have an awful lot of fun too! Covid-safe lessons are able to take place but must be booked in advance. To book a lesson or find out more about the Challenge go to Young Driver or download the Young Driver app from Google Play or the App Store.