Who can you spot in this retro gallery of shoppers at Meadowhall in the noughties?
Bagging a bargain, trying on the latest fashions or just catching up with friends there is something for everyone at Meadowhall.
Wednesday, 16th September 2020, 4:29 pm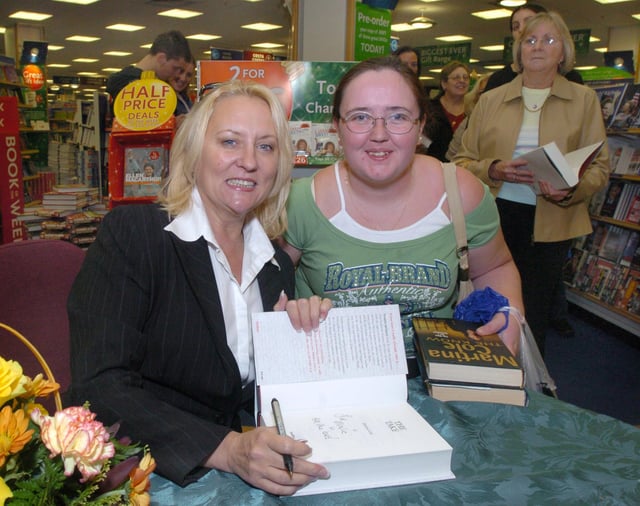 Pictured at W H Smiths, Meadowhall, where writer Martina Cole was seen signing copies of her book The Take. With her is fan Maria Oflaherty from Wincobank, Sheffield.
Take a look back at these great pictures of people enjoying themselves while out shopping from 2005 and check out the clothes and the hair styles from 15 years ago.
Who can you recognise? Who has changed the most and who has barely aged at all?
Tom Evans Assistant Manager of Toymaster in Meadowhall, with a Tamagotchi which was predicted to be a Christmas best seller
Patricia Preece and her daughter, Mabel (11 months) and neice, Grace Hancock (10) at Meadowhall
James Toseland book signing at Ottakar's Book Shop, Meadowhall. Nine years old Tom Hinde was first in the queue .
Kit Harris and NSPCC Appeal team member Elain Kaye launched the NSPCC Gift Tree at Meadowhall in November 2005
Opening of the New Apple computer Shop Meadowhall in December 2005
Modelling Wallis fashion in 2005 were l/r: Josie Roebuck, Wendy Leng, Pauline Morgan and Janet Wytak
Mick Osborne from Meadowhall chated to Hahan Saxon(centre) and David Marsden (both 15)
Joanne Cooke had a Mandolin Makeover
Shirley Robinson after her Mandolin Makeover
Jade Wilkinson the visual merchadising manager for house of Fraser was seen with some of the Christmas goods includiung the 2005 Fraserbear
Raising money for Sheffield Children's Hospital with a Fit Feet sponsored walk around the shopping mall back in 2005
Goodyear staff Samantha Harberd (left) and Jane Rhoden with the Mini on the Goodyear road safety stand at Meadowhal
A local charity feel they have hit game set and match in their quest for celebrity shoes as tennis ace Roger Federar has donated a pair of his trainers. The number one ranking Swiss player sent a signed pair of his trainers to Sheffield Children's Hospital Charity in response to their pleas for celebrity shoes as part of their huge fundraising drive with Meadowhall.
Pictured at the Meadowhall shopping centre, where Theo the Bear and some fit friends of his met up with Elliot Wilson age 18 months and his mum and dad Alistair and Sally to launch the Fit Feet mall walk that will take place Sunday 2nd October to raise cash for the Sheffield Childrens Hospital.
Chocolate shoes pictured with Sharon Morley, Thorntons Store Manager, Meadowhall as part of teh Fit Feet campaign