Which dinnerladies and students can you spot in these retro Doncaster school pictures?
It's lunch time, you're hungry so what are you going to have to eat?
Sunday, 10th May 2020, 11:37 am
Updated
Sunday, 10th May 2020, 11:37 am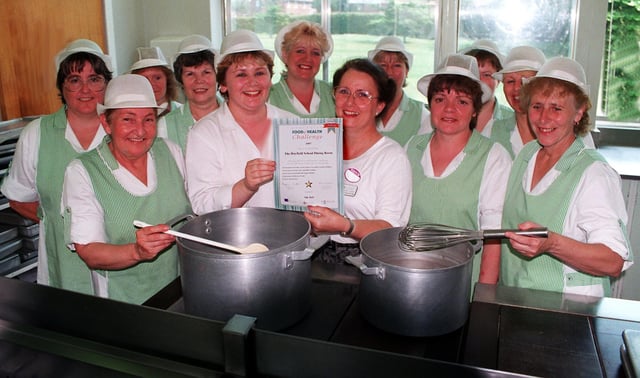 Which dinner ladies and students can you spot in this retro gallery of school meals?
There was a time when school dinners were the only thing on the menu – have a look at some of the meals served up to Sheffield school pupils and see which dinnerladies and pupils you can recognise in these great pictures that go back to 2000.
Pauline Bobson who works in the kitchen of Hexthorpe Primary School, Doncaster named the Funniest dinner lady in a national competition back in 2002
Dinner staff at Edlington Primary School raised money for Doncaster Royal Infirmary by launching a Dr Who themed dinner in 2008. L-R are Lisa Slassor,Tracey McFlatter, Karen Benford, Joan Kovacs and Ann-Lindsey Smith
The Mayor of Doncaster Cllr Maureen Edgar got a first taste of Hatfield High Schools new Dimensions restaurant with pupils chris Coady and Ramnick Murwaha back in 2000
In 2004 Pheasant Bank Junior School got its own kitchen after the Rossington school spent years preparing meals in the facilities at the nearby Holmescarr School building. Our pic shows Angela Exley, Liz Oliver and Nicola Perry
Ruth Martin retired after 19 years at Balby Carr Community Sports and Science College in 2010
Pauline Gibbon (centre) retired as a dinner lady from Littlemoor Children's Centre and Infant School after 29 years, she is pictured in 2014 receiving flowers from the headteacher Carol Ann Turner (l) and Amy Patrick, who was a pupil at the school when Pauline was started as a dinner lady
Wallace and Gromit visited Mallard Primary School in 2012
Meals staff at Hayfield School have met the criteria for the Doncaster Food and Health Challenge 1997. Pictured are the hard working staff with Christine Goodenough, catring manager(centre left)accepting the certificate from Norma Lauder, director of nutrition and Dietetics.
The Armthorpe School pupils, from left, Steven Benton, Cameron Farrell and Joseph Monks, all aged 12, with their school meals in 2005
Year 9 pupils from Wath Comprehensive School in Rotherham and Campsmount School in Doncaster were set the task of designing a sandwich for the 2006 Flying Food competition for in flight passengers
Tucking into their school meals at Hexthorpe Primary in 2003 were, from left, Keith Musson, Lauren Carr-Barker, both aged eight, and Samuel Cunneyworth, aged five. Looking on are midday supervisor Sue White and senior midday supervisor Pauline Hobson.
Doncaster Central MP Rosie Winterton (second left) went along to Wheatley's Kingfisher Primary School in 2010 to join pupils in celebrating National School Meals Week. Our picture shows Rosie with Councillor Eva Hughes and pupils tucking in.
The Civic Mayor of Doncaster, Councillor John Quinn, tucked into a meal at Ridgewood School's new Dimensions food court back in 2002. Looking on is pupil Hanna Flint, aged 14, and food court staff.