Can you spot yourself in these Doncaster retro pictures from 20 years ago?
Every month we will be reminding you of your youth as we pull out pictures from the archives from 20 years ago.
Thursday, 27th February 2020, 3:30 pm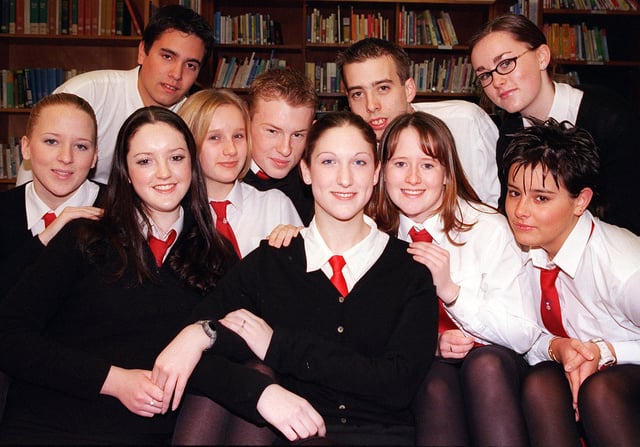 Michele Krause, front, fourth left from America, pictured with her McAuley school mates; back row, from left, Chris Connor, Alistair Proctor, Carl Williams and Linsey McGowan; front, Ellen mcCoy, Michaela Sheridan, Rachel Naylor, Kathryn Lake and Jodie Conroy.
From little tots to teenagers did we take your picture in February 2000?
Who do you recognise from the gallery? Who has changed the most and who hasn't changed at all?And where are they now? Do you still talk to the people you had your picture taken with?
Pictured with their Baden-Powell Trefoil Awards were, Sarah Topliss (left) and Lisa Ingleton (right), both of the 42nd Doncaster All Saints Guide Unit, and Louise Seymour, of the 24th Doncaster All Saints Guide Unit. All three were aged 13.
Lakeside Primary school pupils, from left, Josephine Bowerman, aged eight, Beth Hulme and Hannah Walker, both aged seven and a half, are pictured at the Asda store, Doncaster, taking part in the Asda Big Sum event.
The Footloose Theatre Dance Academy with their show Return To Wonderland at the Doncaster Little Theatre. Our picture shows, from left, Alice, played by Jenny Kirk, aged 14, Knave of Hearts, Jade Thomas, aged 16, and Caterpillar, Emily Rollin, aged 16.
Doncaster and Stainforth Athletic Club held its annual presentation night at the Parklands Social Club, Wheatley Hall Road. Our picture shows the under 11 boys cross country first three: first Patrick Pacy (centre), second Richard Marks (right) and third Thomas Smith, all aged 11.
Nine-year-old Nicky Pearson from Doncaster looked at a Bearded dragon at the exotic animal weekend at Weston Park Museum
Presentation of donations to various Doncaster groups
Pupils from Highfields Primary School who won a picture competition to draw their vision of how they would like to see Highfields redeveloped after Doncaster council announced plans for a £400,000 scheme for the area. The pupils are, left to right, back row, Vikki Williams 11 and Cathy Tingle eight. Front row Katie James, six, Amy Joynes, 10 and Terilea Denman, five
Doncaster Schools' FA U15 team is, back row, from left, Nathan Keating, Craig Morley, Nick Brown, Craig Ince, Clark O'Keeffe, Nick Turton, Lee Jenkins and Adam Stancey; front row, Scott Wordsworth, Andy Middlebrook, Wayne Sadd, Callum Holt, Lee Wilkinson, Richard Crawcroft and Wayne McSeveney;
Pupils of Warmsworth primary school with thier artwork based on the good Samariton
Stainforth School pupil Carrie Errington, Fire fighter Matthew Briggs and the Mayor of Doncaster Margaret Robinson plant one of the new trees at Stainfroth Primary School as part of a combined promotion of the Millenium tree Project.
Mayor of Doncaster Margaret Robinson with Stainforth Pupils Rachel Troops, Saffron Walsh and Firefighter Glynn Morton during a vist by the mayor and the fire service to the school on wednesday
The Doncaster Dragons Acdemy team.
At the Bosom Buddies club at the Doncaster Womens Centre breast awareness day left Alana Dugher of EDlington feed her son Charley 8 months right Hayley Patrick of Warmssworth feds her son Kyle Drury aged 5 months
10-year old Junior Ranger, Katie Varga of Wheatley nr. Doncaster, prepared to join collegues during the planting of 1800 trees at Melton Woods.
Davy Frost, aged five, of Arksey, checks out a Boa Constrictor, with the help of John Conlan, of the Proteus reptile rescue and sanctuary, at the Pets at home snake event in Doncaster