20 pictures of Sheffield moviegoers on a night out at the cinema in the 90s and noughties - who can you spot?
Did you watch the midnight showing of Harry Potter at the cinema or maybe you won tickets to see the Rugrats?
Friday, 18th September 2020, 12:30 pm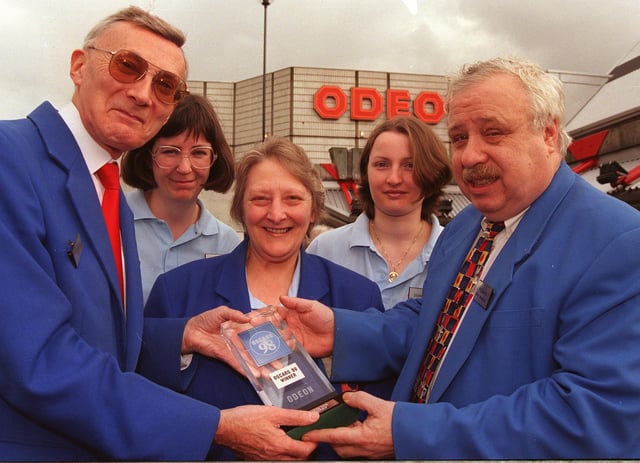 Mr Dennis O"Grady of the Odeon Arundel gate, Assistant Manager Richard Isaac, Fay Topham, Debbie Boulding, Carol Goddard and Phil Westhead, Manager Odeon, Arundel gate with their customer services 'Oscar' in 1998
Grab your popcorn and see who you can spot in these throwback pictures of Sheffield cinema life with pictures from the archive going back to 1998.
Star reader Jerome Morton (centre) received his trip to France prize from Paula Rickwood of Leger Holidays, and Richard Isaac the Senior Assistant manager at the Odeon Cinema, Arundel Gate in 1998
Odean manager Richard Isaac handed the prizes to The Star's Film of the Year competition winners, Margaret Wilde of Graham Road, Ranmoor, and Alan Holmes of Glade Croft, Gleadless back in 2000
Who can you spot in these throwback cinema snaps?
CROP launched their new booklet at the Showroom Cinema in 2000. Seen are speakers at the launch LtoR are, Irene Ivison of CROP, John McSweeney of Howells Solicitors, Fiona Broadfoot of Street Exit, Detective Chief Superintendent Mick Burdis, and Diana Lamplugh of the Suzy Lamplugh Trust.
Laura, Patrick, and Matthew Greenhough dressed up as characters from Harry Potter as they saw a preview screening at UCG Cinemas with friend Lewis Sotham in 2001
Competition winners with their prizes after watching the new Rugrats film Rugrats in Paris at the Odeon cinema Arundel Gate in 2001.
Climber Neil Bentley at the Odeon cinema 2002
Alice and Charlie Woolloff from Ecclesall met Ice Age character Scrat, at the UCG Cinemas in 2002 when the film Ice Age was showing
Tamsin Holmes at the Odeon Cinema, Arundel Gate,Sheffield made props in 2002
Alan Titchmarsh at the Showroom cinema with his new book back in 2002
UCI cinema staff members, Simon Beaumont, Rob Evans, Angela Johnson, Jenny Atkins and Steve Pimperton at the cimema's closing party in 2003
Regional Manager Peter Sadler with staff, Marion Hughes, Sam Baldwin and Michael Piper, at the UCI, Crystal Peaks closing party in 2003
The Heartlands film premiere at Penistone Cinema in 2003, pictured are cast from the film LtoR Jane Robbins, Michael Sheen and Mark Addy with Director Damien O'Donnell
Fabiano Martell at the launch of Cradle of Life at the UCG Cinemas, back in 2003, in which he has a part with from left Steven Cumin, Rupa Ghosh, ClaireeAlanura, Fabiano; Marry Mawson and Maryina Marzo
Pictured at the Odeon Cinema, Arundel Gate, Sheffield in 2004, where Colin Oakley the marketing co-ordinator presented cat food to Sheffield Hallam Cats Protection. Seen receiving the food is Janice Martin from the Cats protection group, and cat Bella a 12 week old cat that is looking for a good home
Green Party activists including on the left, Jillian Creasy and Bernard Little leaflet cinema goers outside the Odeon cinema, sheffield, before the film 'The Day After Tomorrow'. back in 2004
Lord Mason chats to film goers in the foyer at The Odeon, Barnsley in 2005 after a free showing for pensioners
Chief projectionist Andy Baker and Lord Mason in the projection room at The Odeon, Barnsley in 2005
Odeon cinema staff in Star Wars characters costume to promote the new Star wars film back in 2005, pictured are Colin Oakley, Louise Archer, Tracy Steel and Christine Adams