Crowle Peatland Railway has been shortlisted for a prestigious national award
Crowle Peatland Railway has been shortlisted for a prestigious national award by the Heritage Railway Association.
Watch more of our videos on Shots! 
and live on Freeview channel 276
Visit Shots! now
The award is for the restoration of its Simplex Locomotive 40s302 now known as 'Little Peat'.
Crowle Peatland Railway is up against prestigious Heritage Railways including the Great Central Railway for this particular award.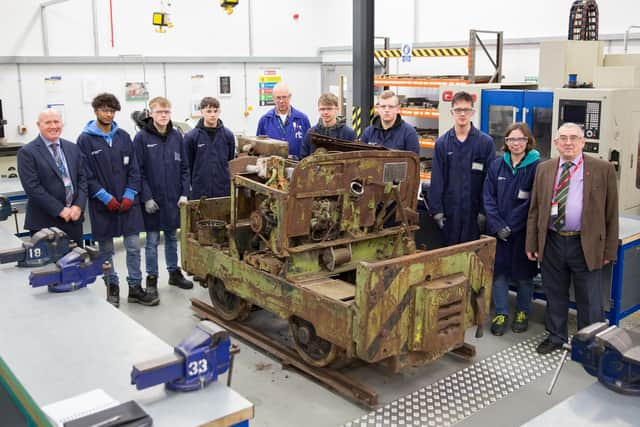 The locomotive was originally bought by Fisons in 1967 but had been abandoned and left out on the moors after its axle bearing had apparently failed in the early 1990s.
The existence of the locomotive on the moors was the inspiration to form a group to preserve the history and heritage of the moors. The inaugural meeting of the group that was to form Crowle Peatland Railway was held in May 2013.
The locomotive was built by Motor Rail Limited at their Bedford Works. Originally supplied with a short cab, the cab was extended to make it easier for operators to see over the large milled peat wagons and to avoid hitting their heads when they got in and out.
It was put to work at Fison's Hatfield Peat Works in 1967. By 1996 it was photographed in an abandoned state at Bank Top – it does not appear to have been used after then and was left in the open until recovered by Crowle Peatland Railway in 2015.
The loco was initially renovated by the Engineering Department of North Lindsey College in Scunthorpe as an enrichment project for their students. This was supervised by our member Dave Bilmore, who had previously owned a simplex loco. Unfortunately, Dave died before the project was complete.
It was intended that the College students would reassemble the loco on-site at The Old Peatworks on Crowle Moor, the home of Crowle peatland Railway. The renovated pieces of the dismantled loco were delivered to the site on 23 October 2019.
Unfortunately, the covid pandemic hit and it was not possible for the college to commence reassembly.
The loco was, therefore, reassembled by the railway's own volunteers and on the 19th June 2021 the loco was able to operate under its own power for the first time in the best part of 25 years.
Crowle Peatland Railway was formed to preserve the history and heritage of the moors, in particular the railways. The Railway was originally formed with support from the Isle of Axholme & Hatfield Chase Landscape Partnership with support from the Heritage Lottery Fund.
The Heritage Railway Association is the UK-wide trade body representing heritage railways, tramways, cliff railways, museums and rolling stock owners. They have over 300 members ranging from lengthy heritage railways operating historic steam locomotives to short electric tramways and even miniature lines.