World Menopause Day: Doncaster hospital trust awarded menopause friendly accreditation
Doncaster and Bassetlaw Teaching Hospitals (DBTH) has been recognised as a leading employer in workplace inclusivity, announcing their recent Menopause Friendly Accreditation achievement.
Watch more of our videos on Shots! 
and live on Freeview channel 276
Visit Shots! now
Led by NHS South Yorkshire Integrated Care Board (ICB), DBTH is one of only 15 organisations to be awarded this accreditation locally. In working towards this standard, the Trust has spent the last nine months transforming the way in which colleagues experiencing the menopause are supported in the workplace.
The menopause usually occurs between the ages of 45 and 55, although can begin earlier, when the ovaries run out of eggs and the hormones oestrogen, progesterone, and testosterone fall. The perimenopause is the stage before the menopause when hormone levels are beginning to decline and symptoms start.
The menopause transition can have a significant and challenging impact on many women, especially whilst at work. Symptoms are often debilitating and unpredictable, including hot flushes, anxiety, insomnia, problems with concentration and memory, fatigue, headaches, muscle and joint pains, urinary symptoms and low mood.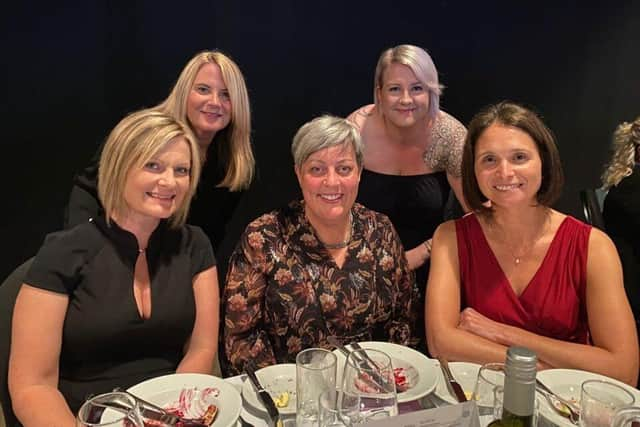 These symptoms can last for a number of years, making it even more imperative for workplaces to support their employees during this time.
Central to this achievement has been the tireless efforts of the Trust's Health and Wellbeing Team, helping to create and deliver a robust programme of activities, schemes and support available surrounding the menopause, including a dedicated group chat for colleagues to reach out and discuss their experiences.
The team's weekly Wellbeing Wednesday sessions have been a prominent feature of this support, offering informative sessions on menopause related topics such as nutrition, sleep and diet, alongside special sessions led by expert guest speakers, including Channel 4's Dr Dawn Harper.
The DBTH Learning Resource Centre have also been working to cultivate a menopause library, offering a wide selection of books on the topic of menopause for colleagues to borrow.The Health and Wellbeing Team also offer an array of literature, including popular titles such as Davina McCall's 'Menopausing', contributing to the facilitation of informed discussions around the menopause.
Whilst the Trust maintains a largely female dominated workforce, with over 80 per cent of all colleagues identifying as female, DBTH's commitment has not only been to supporting colleagues experiencing the menopause but also raising awareness of the challenges and tackling stigma surrounding the menopause throughout the wider hospital community.
All colleagues, regardless of role or gender, have the opportunity to join information sessions and get involved in learning about how they can support
their peers, team members, partners and families during the life stage.
Last month also saw the introduction of a new Menopause Policy at the Trust, outlining information and support for colleagues and line managers, including detail on symptoms team members may experience and guidance on reasonable adjustments that are available.
This new policy helps to bolster the menopause support already available at the Trust, providing a transparent framework for colleagues seeking assistance. What's more, through the policy, colleagues who are absent from work can now record menopause linked to their reason for absence, helping to ensure managers and team members are aware to offer further support and aims to de-stigmatise the experience, recognising the menopause as a legitimate life stage many colleagues will face.
A colleague who has received wellbeing support surrounding the menopause from the Trust's Health & Wellbeing Team, shared: "Thank you to the team for all of their hard work. I don't think they realise what a difference they've made to me – I was genuinely suffering before their support."
In working towards broadening support for colleagues, the Trust has introduced trained menopause advocates, creating an understanding environment where sharing experiences is encouraged, and colleagues feel safe and comfortable to open up.
The team of 15 trained advocates have completed comprehensive training by Henpicked - leaders in menopause in the workplace training - equipping them with the tools to support colleagues and line managers on the menopause journeys of all at DBTH.
The team are working hard across all three Trust sites to provide invaluable support through training sessions and facilitating drop-in sessions, thereby fostering a culture of understanding and compassion.
Zoe Lintin, Chief People Officer at DBTH, said: "We are incredibly proud to receive this accreditation for the support surrounding the menopause for our colleagues. We believe it is important to foster a workplace where every individual's needs are recognised and supported. The Menopause Friendly Accreditation reflects our continued commitment to creating an environment where everyone can thrive, regardless of their stage of life. Through understanding, guidance and inclusive policies, we are shaping a hospital community that truly values and respects the experiences of all our colleagues."
In June, DBTH was also awarded 'Gold' as part of South Yorkshire's 'Be Well @ Work Award', recognising the exceptional efforts made by the Trust to support the health and wellbeing of colleagues. Most recently, the Trust's Health and Wellbeing Team won at the Healthcare People Management Association's (HPMA) Award for Wellbeing as part of their 2023 Excellence in People Awards through their collaborative work with South Yorkshire ICB and South Yorkshire Integrated Care System.