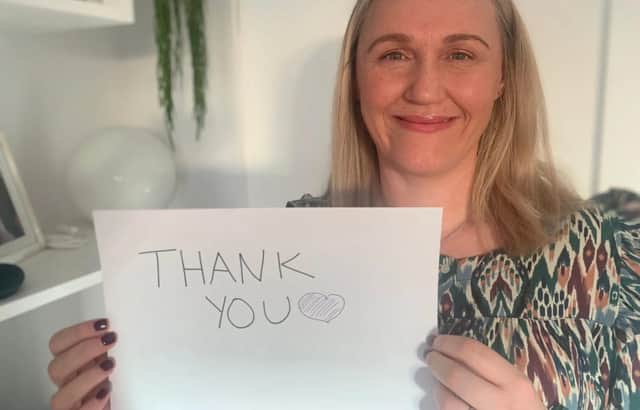 Emma Clarke, CEO of Weston Park Cancer Charity, thanks National Lottery Community Fund and players for £270,000 donation to help region's cancer patients
It will use its share of the pot to take outreach support to the region's most deprived wards, reaching around 3,000 people who are affected by cancer, over the next three years.
Groups and organisations across South Yorkshire have been given a share of £2.5 million for their important work supporting local communities in areas of Sheffield, Rotherham, Doncaster and Barnsley.
The National Lottery Community Fund, the largest funder of community activity in the UK, and is helping people and communities to build back from the pandemic, prosper and thrive.
Weston Park Cancer Charity, based in Sheffield but serving the entire county and beyond, will use money to help raise awareness of the signs and symptoms of cancer.
It pledges to be there, at every step, from the moment people are diagnosed. This includes free practical, financial and emotional support for people in high-risk communities who are currently least likely to seek support.
According to Public Health, people from minority communities and those living in deprivation in Sheffield are more likely to die early from cancer.
Those from these high-risk communities are currently the least likely to be accessing support from the group's dedicated centre, and the new funding will look to address this issue.
In 2016, Peter, 74, from Handsworth was diagnosed with Non-Hodgkin lymphoma and underwent intense chemotherapy at Weston Park Cancer Centre. Peter received support for fatigue and other side effects of his cancer and cancer treatment, much of which took a toll on his physical and mental wellbeing.
During the height of the COVID-19 pandemic more than 1,000 outgoing calls were made by Weston Park Cancer Charity's healthcare professionals to individuals who were shielding, to make sure they were not totally alone during such an isolating, anxiety-inducing time for everyone – particularly those who, all of a sudden, were facing cancer alone.
Unfortunately, Peter's cancer returned, and he underwent a second round of chemotherapy in 2019 at Weston Park. His treatment and condition has had a huge
impact on his life, both emotionally and physically, as Peter had issues accessing basic essentials due to needing to shield during the COVID-19 pandemic.
Weston Park Cancer Charity's Emily Howarth called Peter every month to help alleviate any feelings of isolation and loneliness.
Peter said: "The people who run the course were so friendly, they don't stigmatise you. Everyone is in a similar predicament – they went round us
one at a time and asked us about our situation. Nobody looked down on you – it was great, I really enjoyed it."
"It was really good to have the support of Weston Park Cancer Charity with shopping deliveries. It made me feel good because I knew I'd got somebody coming
National Lottery funding will ensure Weston Park Cancer Charity can be with cancer battlers like Peter every step of the way.
to visit me, because I couldn't have any visitors in."
With seven targeted wards identified, one of the ways in which National Lottery funding will support the group's aims is to launch its Cancer Support Bus,
which will be taken into the community to bring support to people's front doors. An array of services will be available from the bus, such as one-to-one emotional and practical support, benefits advice, and peer support groups. The flexibility of the bus will help those who struggle to travel to the centre receive the support they need.
Peter was full of praise for the idea of a cancer support bus. He added: "I think it's good. People will benefit from it who can't get out to the support
centre. Rather than catching a bus all the way to the centre, they can go into the community and see you.
"So it'll be like a hub, you can get all your benefits information, all your nurses information and all your health information from it."
Emma Clarke, CEO at Weston Park Cancer Charity, said: "At Weston Park Cancer Charity, we exist to create a better life for everyone in our region who is affected by cancer.
"Of course, we can only be there for everyone facing cancer because of the generosity of people like the National Lottery players. We wholeheartedly thank the National Lottery for giving us this transformational opportunity to make a real difference in the communities which need us most.
"We're planning to expand and take our cancer support services out into communities across Sheffield and the wider region, beyond our current service provision at Weston Park. This will give people better access to our free support services which are often described as a 'life-line' for people facing cancer and their families.
"It means better access to mental health and wellbeing services and better support for those facing financial difficulty because of their cancer diagnosis."
Joe Dobson, Head of Funding for Yorkshire & Humber at The National Lottery Community Fund, said: "Thanks to National Lottery players and the hard work and dedication of local projects, like Weston Park Cancer Charity, this funding will make a big difference to people's lives across South Yorkshire. We're delighted that our funding is being used to strengthen communities and provide people with the tools and support they need to prosper and thrive."
South Yorkshire isn't alone in benefiting from National Lottery funding.
It was announced that almost £7.5 million has been distributed to over 260 community organisations across the North East and Cumbria, while nearly
£100 million has been awarded to over 3,000 projects in England in the past three months.
Thanks to National Lottery players, this will fund things that matter to communities, such as economic prosperity, employment, young people, mental health, loneliness and helping the UK reach net zero by 2050.
National Lottery players raise over £30 million each week for good causes across the UK. In the past 12 months it has given out nearly £600 million to 12,500 organisations reaching every local authority and constituency in the UK.