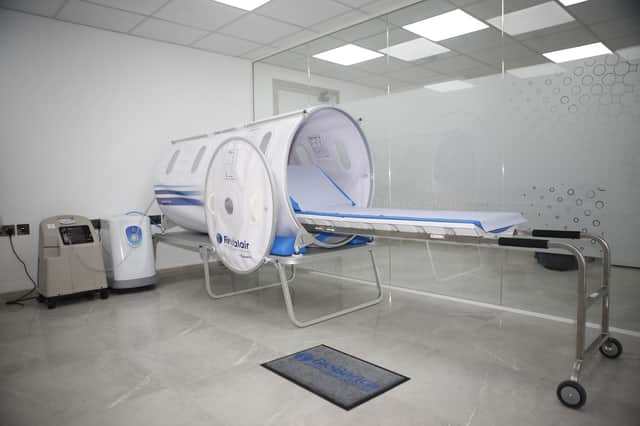 A 2021 study found that HbOT is effective for joint pain in patients with Rheumatoid Arthritis
But a therapy available here in Yorkshire is seeing results in its patients, who are reporting less pain and more movement in their inflamed joints.
The treatment is painless and non-invasive. It's called Hyperbaric Oxygen Therapy and involves breathing in near-pure oxygen, under pressure, in a carefully controlled environment.
Hyperbaric Oxygen Therapy (HbOT) allows a significant increase in the amount of oxygen dissolved in the bloodstream. This 'enriched blood' is carried to the 15 Trillion cells in the body even those with blocked or reduced blood flow can benefit.
For people who suffer with arthritis the therapy can help to reduce inflammation, reverse tissue hypoxia in the joint, reduce pain and improve range of movement. Hyperbaric Oxygen Therapy has actually been found to inhibit the development of the disease process.
Arthritis is the swelling and tenderness of one or more joints. The main symptoms of arthritis are joint pain and stiffness, which typically worsen with age. The most common types of arthritis are osteoarthritis and rheumatoid arthritis. Severe arthritis, particularly if it affects the hands or arms, can make it difficult to do daily tasks. Arthritis of weight-bearing joints can make it difficult to walk comfortably or sit up straight. In some cases, joints may gradually lose their alignment and shape.
International studies are finding that Hyperbaric Oxygen Therapy is markedly superior to the routine treatment of RA. In 1995, the Proceedings of the Eleventh International Congress on Hyperbaric Medicine published the results of one particular study. These results indicated the following effects of hyperbaric oxygen on the disease.
Remission: 23.4% Obvious effect: 51.4% Improvement: 16.2% No effect: 8.1%
The total summarized effective rate of hyperbaric oxygen in treating RA was 91.9%. The authors of the study concluded, "In the treatment we find that hyperbaric oxygen is markedly superior to the routine treatment of rheumatoid arthritis."
A 2021 study found that HbOT is effective for joint pain in patients with Rheumatoid Arthritis based on data from multiple, validated clinical measure You can find the full study here.
Debbie, who attended the Leeds Centre said: "After months of suffering with arthritic pain my mood and self-esteem were at rock bottom. I saw the Yorkshire Evening Post review regarding Oxify, so decided to give it a try.
"They say you will notice a difference after three or four sessions, but I could feel a difference after only 1 session! I had a bit more movement in my knee, no burning or stabbing pains in my thighs due to the arthritis. My mood had also lifted and I was feeling much more positive.
"I have now had 4 sessions over 7 days and not had any pain at all, still feeling positive and my complexion has also improved. The place is spotlessly clean, and the staff are so friendly and helpful. For anyone who is thinking of trying this I would say "Go for it" it's totally pain free and the benefits are amazing."
Janice attended the treatment clinic at Retford and said it had been an "amazing" experience.
"I went in thinking that an hour of lying down, reading and breathing pure clean air would be beneficial, which it is, but after a couple of sessions I began to feel much more alert.
"Another effect of the treatment for me is the effect it has had on my arthritis which is particularly bad in my hands. I have a lot more flexibility in my fingers and the shooting pains I used to get in my thumbs have gone. I feel a lot less tired on a daily bases. Before having the treatment my breathing after exertion, such as simply climbing the stairs, was laboured but now, I just don't even think about dashing upstairs, it's much easier than before.
"I would recommend this treatment to anyone, go there with an open mind, you might be surprised at how good it is, I was!"
Who else can benefit from HbOT ?
On a cellular level, HbOT helps rejuvenate cells, supplies you with energy, supports your immune system, and more.
Sarah Todd, who runs Oxify centres in Leeds, Manchester and Retford, says the effects of Hyperbaric Oxygen Therapy are cumulative – the more sessions you have the more benefit you will see. But some patients feel a difference after just one session.
As well as easing arthritis and joint pain the treatment is also used to help people with migraine and headache symptoms, sports injuries, and long covid. And the treatment has also helped those with dementia and Alzheimers
Sarah is so convinced of the difference the therapy can make that she is offering clients a money-back guarantee, if they don't feel the benefit. See the website here or give the team at Oxify a call on 01777 861462 for full T&Cs.
How is the therapy given?
You lie fully-clothed in a manually operated chamber with windows, and an oxygen mask placed over the nose and mouth to deliver the oxygen. HbOT is a non-invasive and painless procedure which clients find easy-going and relaxing. Your host will monitor you throughout to ensure you are happy and at ease.
Oxify are offering 25% off your first booking. Use discount code YP876 at booking.
You can book the therapy at Oxify centres in:
Leeds – Ground floor Woodhead House, Woodhead Road, Birstall WF17 9TD. Call 0113 543 2750 or email [email protected] to make an appointment.
Retford – Ground Floor, Randall Business Centre, Randall Park Way, Retford DN22 7WF. Call 01777 861462 or email [email protected]
Manchester – Ground Floor, Grosvenor House, Agecroft Enterprise Park, Downcast Way, Pendlebury, Manchester, M27 8UW. 0161 240 6223