Explore Doncaster Royal Infirmary's operating theatre in 3D
Earlier this year, Doncaster and Bassetlaw Teaching Hospitals (DBTH) partnered with Panjango, a visionary education company, to create an immersive virtual tour of the modular theatres within the women and children's hospitals at Doncaster Royal Infirmary.
Watch more of our videos on Shots! 
and live on Freeview channel 276
Visit Shots! now
This collaborative effort is poised to reshape the way we approach learning, extending an exceptional opportunity to both students and patients to uncover the inner workings of a hospital environment.
With Panjango leading the way and in partnership with DBTH, this initiative is further bolstered by the support of the South Yorkshire Mayoral Combined Authority, aligning with their campaign to spotlight local authorities across South Yorkshire.
DBTH is all about offering complete learning that goes beyond regular classrooms.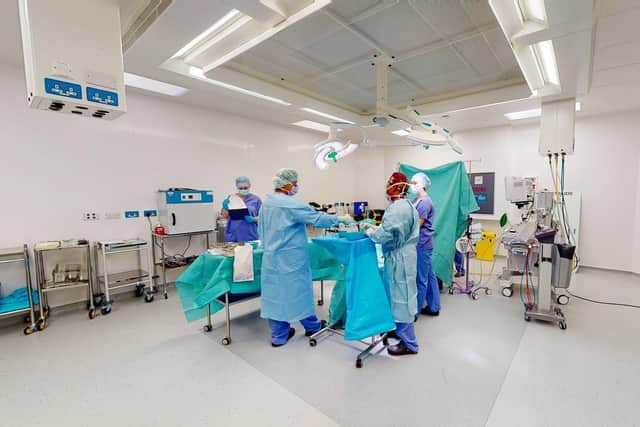 The collaboration with Panjango shows this commitment by using advanced education technology alongside real-world insights. This immersive virtual tour gives an exciting and informative experience.
Through the virtual tour people can understand hospital theatres deeply by exploring the environments, jobs, tools, and daily life of theatre professionals.
One of the highlights of this virtual tour is the involvement of actual members of the orthopaedic surgical team, who recreated a live theatre scenario.
This immersive approach allows students and viewers an insight into the entire process – from administering anaesthesia to the actual surgery through to post-operative recovery – providing an authentic and informative learning experience.
Kelly Turkhud, Vocational Education Manager at DBTH, emphasised the significance of this collaboration, stating, "Our collaboration with Panjango truly embodies our commitment to creating extraordinary learning experiences here at DBTH.
"This virtual tour isn't just a glimpse into the health and care world – it's a captivating display that opens the doors to a wide array of exciting healthcare careers. We're genuinely excited about this partnership because it isn't just a win for students; it's a win for anyone intrigued by the prospect of working in theatres or even those interested in how theatres work.
"This collaboration isn't just about knowledge transfer; it's about highlighting the paths of possibilities for our students and our broader community. We're able to create an educational experience that's both informative and enlightening."
Beyond its educational value, the virtual tour also serves as an invaluable resource for patients and their families. By offering an immersive view of the theatre environment, the tour can help alleviate any concerns or uncertainties patients may have before undergoing surgery.
Jon Maiden, Founder, and CEO of Panjango, shared his excitement, stating, "We are thrilled to collaborate with DBTH to bring real-world experiences into education. By merging technology with practical insights, we aim to equip students with relevant skills and knowledge that will empower them in their future endeavours. Additionally, it's a rare chance to showcase a behind-the-scenes hospital theatre, offering insight into a usually off-limits area and strengthening the bond between healthcare and the community."
This innovative collaboration between DBTH and Panjango sets a precedent for future partnerships between educational institutions and industries. By leveraging immersive experiences, both organisations strive to enhance learning outcomes, foster career exploration, and create a lasting positive impact.