Doncaster woman, 26, who lost her eyesight and had liver failure had her life saved twice
A young Doncaster woman who lost her eyesight and had liver failure had her life saved twice and she says it's thanks to the donation of a vital organ and the love of her partner.
Watch more of our videos on Shots! 
and live on Freeview channel 276
Visit Shots! now
Beth Hulley, aged 26, from Hatfield, was diagnosed with Autoimmune Hepatitis this summer and after being discharged fromn hospital it quickly became apparent that her liver was failing.
Her fiancee Katie Evans, aged 25, picks up the story.
"Just a few days after being discharged this summer after being diagnosed with Autoimmune Hepatitis, I found myself back in Leeds with Beth a few days later for a routine blood test.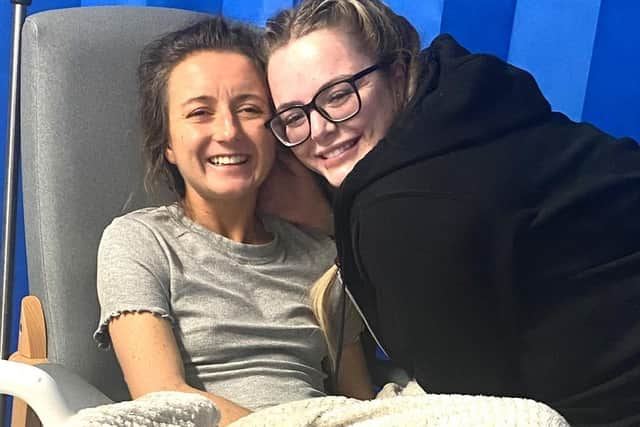 "The drive from Doncaster to Leeds blurred together, time slipping away. It felt like moments melted into an indefinite haze. Beth's memory seemed to fade, even her recollection of our anniversary.
"Counting, adding numbers, all became muddled for her.
"Her eyesight dimmed, a result of the toxins affecting her liver, which had also reached her brain, pushing her into liver failure.
"A whirlwind followed. I was ushered into a room alongside Beth, facing a reality I was unprepared for. An agreement needed to be signed to put Beth on the SUPER URGENT liver transplant list.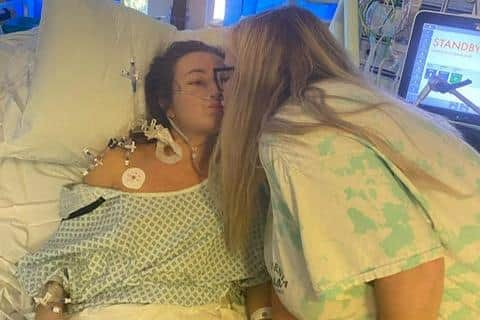 "Her condition deteriorated quickly in the following week, the details of which I've shielded her from until she's ready. Days blurred into each other, a relentless stream of worsening symptoms.
"Through it all, I remained steadfastly by Beth's side, every moment, every hour. Then came another unexpected turn. I was informed that Beth would be moved to intensive care as we awaited a suitable liver. Then, miraculously, on that very night, a liver arrived at the Leeds hospital.
"Beth was teetering on the edge, her body struggling to hold on. Speaking was a challenge, her arms and eyes betraying her.
"The following day, at 8.45am, Beth, two surgeons, and I embarked on a journey to the operating room. I whispered to her to "dream of beautiful things" as she faced an eight-hour, life-saving surgery for her liver transplant. The aftermath saw Beth spending less than a day in intensive care, an anomaly considering the average was three days.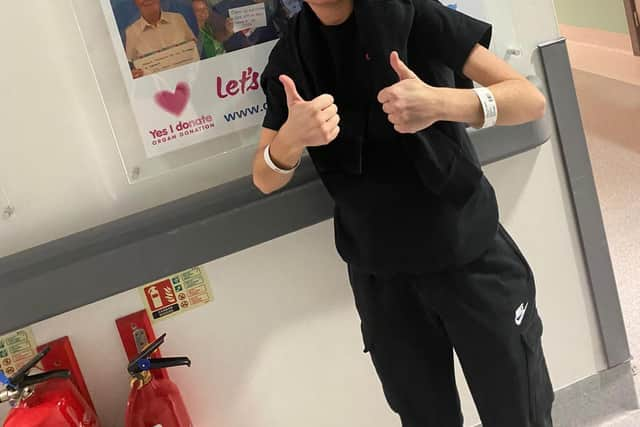 "Her recovery was remarkable, though it came with confusion and adjustments. After two days, her once-lost sight returned, and she opened her eyes to see me, her girl.
"This journey took us by surprise, yet Beth's resilience astounds me. She's here today, sharing her story of survival, a story that's seen her life saved not once, but twice. Her donor, someone of a similar age, adds an extra layer of magic to the tale. And now, we stand on the cusp of a new chapter.
"Beth's recovery has been nothing short of remarkable — her sight returned, confusion vanished, and her new liver responding positively. Twice she's been given a second chance at life, and I'm humbled by the sheer luck and gratitude that fills us both. Beth has been reborn, and our love story continues to unfold with a strength that defies all odds."
Katie added: "The British Liver Trust found me comfort in a time of need. Amongst the big wide world of the internet I consoled in only reading about Beth's diagnosis and surgery on there."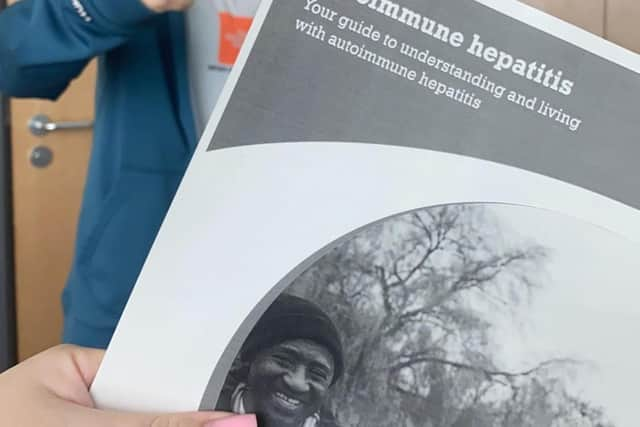 Back at home after her recent surgery, Beth told the Free Press: "I'm recovering really well, I was out of Leeds St James one week post op! Which is fantastic! I just need to recover fully. Katie saved my life which is the best thing ever.
"I'll live with Auto Immune Hepatitis however i'll manage that with medication/steroids for life.
"I'm a sucker for a happy ending too and I certainly got mine!!"
And what about their future plans? Beth continued: "Certainly we will be planning the wedding once we're both back on our feet but at the moment we're enjoying life together as I was hours away from death so we are just embracing life together and enjoying everyday."
As a thank you to the British Liver Trust, Katie is undertaking the 30 for 30 challenge, which is 30 minutes of exercise for 30 days.
Donations surpassed expectations, the target was £200 and the final amount was £4,325.
A British Liver Trust spokesperson said: "Beth and Katie's moving journey reminds us that every day, there are individuals desperately waiting for a liver transplant. The pressing need for organ donors cannot be overstated.
"Over 600 people in the UK are currently awaiting a liver transplant that could be their lifeline. But the heartbreaking reality is that not everyone receives a transplant in time and lives are lost every year due to the shortage of available livers.
"We, at the British Liver Trust, call upon every registered organ donor to have a crucial conversation with their loved ones."
*Autoimmune hepatitis is a life-long and rare liver disease. It is when your body's immune system causes damage to its own healthy liver cells. This leads to inflammation in the liver.
Treatment involves very effective medicines that suppress the immune system and reduce inflammation. It also reduces the likelihood of your condition getting worse.
If left untreated it can lead to serious scarring of the liver (cirrhosis). This can then lead to liver cancer or liver failure.
It is not entirely clear what causes autoimmune hepatitis, and it is not known whether anything can be done to prevent it.
Early symptoms can include an overwhelming sense of tiredness (fatigue), feeling generally unwell, itching, and yellowing of the skin and eyes.