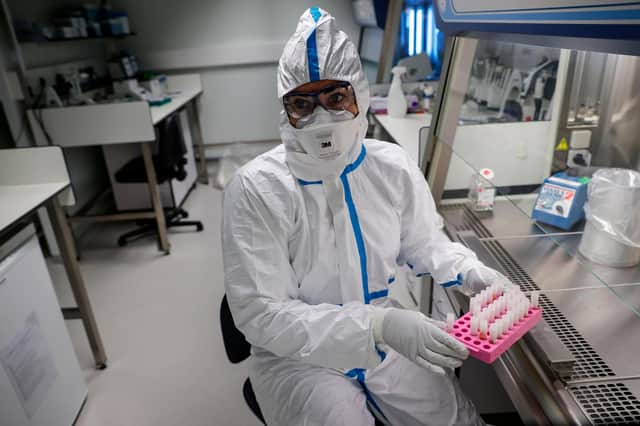 There are now 15 confirmed cases of coronavirus in Doncaster. (Photo by THOMAS SAMSON/AFP via Getty Images)
This live blog will be updated throughout the day with the latest on the pandemic in Doncaster.
CORONAVIRUS LIVE: Latest updates from Doncaster
Last updated: Thursday, 26 March, 2020, 16:50
15 cases now confirmed in Doncaster, and 228 across South Yorkshire
Photos show empty streets and parks as people follow orders to stay at home
Police can arrest people who break lockdown rules
The home secretary Priti Patel has said people who continue to flout coronavirus lockdown rules will be breaking the law and can be arrested.
"The Prime Minister has been clear on what we need to do: stay at home to protect our NHS and save lives," she said.
"All our frontline services really are the best of us and are doing an incredible job to stop this terrible virus from spreading. That's why I'm giving the police these new enforcement powers, to protect the public and keep people safe."
Nationwide round of applause for NHS workers tonight
Members of the public have been asked to join a nationwide round of applause tonight for NHS workers at the frontline of the battle against coronavirus.
People are being asked to clap from their windows at 8pm this evening, as part of the 'Clap for our Carers' campaign, to show their appreciation for the sterling efforts of doctors, nurses, carers, GPs, pharmacists and other NHS staff during the pandemic.
Self-employed workers set to be offered help
A financial package aimed at helping self-employed workers get through the coronavirus crisis will be announced by Chancellor Rishi Sunak today, with the Government under growing pressure to throw the sector a lifeline.
The move comes after Prime Minister Boris Johnson told Parliament he wanted to achieve 'parity of support' so the self-employed could have similar levels of protection to waged workers.
The Chancellor will outline his measures today, on the day the number of people testing positive for COVID-19 is likely to pass 10,000.
Free parking for NHS workers
Free parking has been announced for NHS staff during the coronavirus outbreak.
NHS workers are to be given free car parking with immediate effect at hospitals and other medical facilities and social care staff and health service volunteers will also be exempt from parking charges.
NHS Trusts set their own parking charges, but the Government will cover the cost of any income lost from daily fees paid by staff, the Department of Health said.
Streets and parks looking very different amid coronavirus lockdown
Latest coronavirus figures for Doncaster
Across the UK, there are are 9,529 confirmed cases, and 422 people have died.